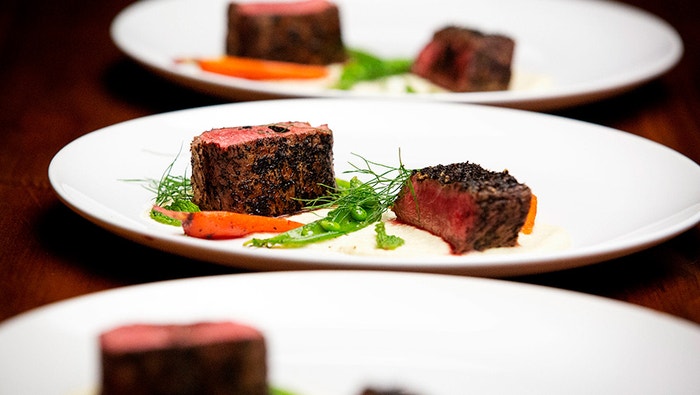 Steps
Preheat oven to 180C.
For the Blackberry Jus, place lamb bones into a large saucepan and place over high heat Cook, stirring regularly, until browned. Drain excess fat from the pan.
Add shallots and cook, stirring, until slightly softened, about 2-3 minutes. Add veal stock and 250ml blackberry juice to deglaze pan. Reduce heat and simmer until reduced by half, about 20 minutes. Remove from heat.
Strain through a fine sieve into a small saucepan and return to heat until reduced by a further half. Whisk in butter and reduce by one third. Remove from heat, add mint, remaining the blackberry juice and salt to taste. Set aside, keeping warm, until serving.
For the Fennel Puree, finely chop the fennel, reserving fennel fronds.
Place fennel, milk and salt in a small saucepan and set over medium heat. Bring to a boil then reduce heat, cover and simmer until fennel is soft, about 20-25 minutes.
Strain fennel, reserving cooking liquid, and place in a food processor. Process fennel, adding a little of the cooking milk, if required, to a soft, smooth puree. Season to taste and set aside, keeping warm, until serving.
For the Leek Ash Lamb, cut leek green in half lengthways, wash thoroughly and spread out over a baking tray. Place in oven to cook until blackened, about 25-30 minutes. Remove from oven and set aside to cool.
Place leek in a fine sieve set over a paper lined baking tray and crush to pass through. Set leek ash aside.
Meanwhile, place olive oil into an oven proof medium sized pan and place over high heat. Season the lamb back straps with salt and place in the pan just before the oil starts to smoke. Fry for 2 minutes each side then transfer to oven and cook until medium rare, about 6-7 minutes, or longer until cooked to your liking. Remove from oven and set aside to rest for 10-15 minutes.
Roll rested lamb in the leek ash to coat and set aside, keeping warm, until serving.
For the Carrots and Peas, place stock in a small saucepan, set over medium heat and bring to a boil. Add carrots, reduce heat then simmer until almost tender, about 5-8 minutes.
Meanwhile, split sugar snap peas lengthways, ensuring peas remain in one half of the shell. Place the shells with the peas into the stock and gently cook for 2 minutes. Remove carrots and peas from water with a slotted spoon and set aside, keeping warm, until serving.
To serve, spread a spoonful of Fennel Puree on each serving plate. Slice each Leek Ash Lamb backstrap into 4 equal portions and add to the plate. Add Carrot and Peas. Garnish with fennel fronds and mint leaves and serve with Blackberry Jus on the side.