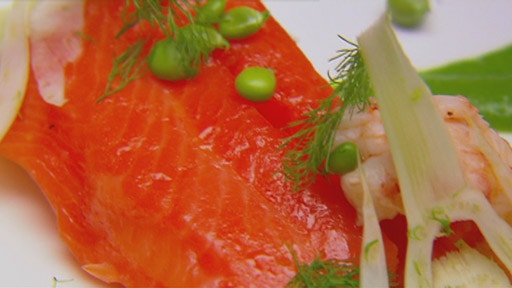 Steps
Combine salt, sugar and lemon zest and spread over both sides of trout. Cover and refrigerate until ready to cook.
Poach yabbies in boiling salted water for 3 minutes and refresh in iced water. Remove heads from the yabbies, reserving them for the yabby oil. Reserve any coral from heads. Peel tails and remove intestinal tract.
For yabby oil, heat one tablespoon of the oil in a large frying pan over medium-high heat and cook yabby heads and coral for 3-5 minutes until oil is coloured. Add passata and stir for one minute, add remaining oil, reduce heat to low and simmer gently to let flavours infuse for 20-30 minutes. Strain and set aside.
For pea puree, blanch peas in a saucepan of boiling salted water for 3 minutes. Drain and blend in thermomix or blender to a puree, add butter and blend until smooth. Pass through a sieve 3 times or until as smooth as desired.
For trout, wipe the salt mixture off the trout then rinse and pat dry. Place trout in a heat seal bag with one teaspoon of oil. Poach in a saucepan of water at 46°C for 15 minutes.
To serve; dress the shaved baby fennel with lemon juice and arrange on serving plate with confit trout, poached yabby tail, pea puree, fresh peas and fennel fronds.
Notes
Preparation: 30 minutes Cooking: 60 minutes