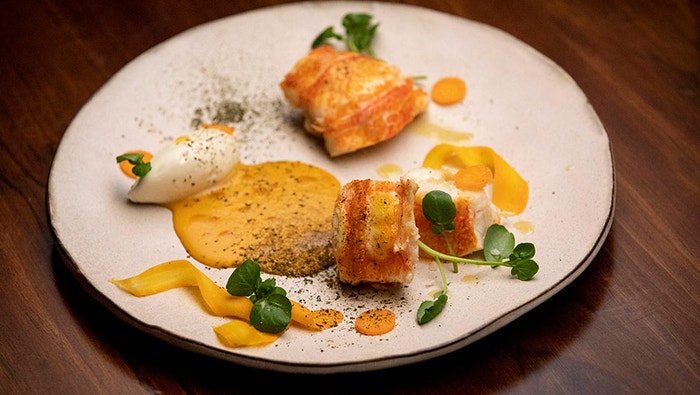 Steps
For the Bonito Bavarois, place 125g thickened cream and bonito flakes into a small saucepan and heat until just boiling. Remove from heat, add bloomed gelatine and stir to combine. Allow to cool then strain through a fine sieve into a medium bowl. Season with salt.
Whisk remaining 125g thickened cream to soft peaks and fold into cool bonito infused cream. Transfer to a small bowl and refrigerate until set, at least 1 hour.
For the Kombu Dust, break kombu sheets into pieces and place into a spice grinder. Grind until a powder consistency is formed. Set aside in a bowl until required.
For the Pickled Carrots, place vinegar, sugar and 1 cup water into a small saucepan and stir over high heat until sugar has dissolved. Remove from heat.
Slice 1 carrot into thin rounds. Using a peeler, peel 1 carrot into long ribbons. Place carrots into a bowl and pour the warm vinegar mixture over. Set aside, to pickle, for at least 15 minutes, then drain and set aside until serving.
For the Brown Butter, place butter in a large saucepan and set over medium-high heat. Once butter has melted, reduce heat to medium and swirl saucepan to ensure milk solids brown evenly. Continue to cook until solids are brown, and oil is golden and aromatic. Remove from heat and strain through muslin into a clean, medium saucepan. Set aside until serving.
For the Lobster, place 3 litres of water and salt into a large saucepan and bring to a boil. Add lobster tails and cook for 6 minutes. Remove from heat and transfer lobster tails to a bowl of ice-cold water until cool to touch.
Once cool, crack shell open and remove the tail meat. Using tweezers, remove vein then portion each tail neatly into 4 medallions, and set aside until serving.
For the Carrot Reduction, juice carrots to obtain 280g juice. Strain into a small saucepan and place over medium-high heat. Simmer until reduced by half. Remove from heat and transfer to the canister of a stick blender.
Add cold, diced butter, one piece at a time, blending until emulsified. Add remaining ingredients and blend until smooth. Set aside, keeping warm, until serving.
To serve, place saucepan of brown butter over medium heat and heat to 75C. Add lobster medallions and spoon over butter until cooked though, about 4 minutes. Remove from heat.
Place some Carrot Reduction in the middle of each serving plate and drizzle with a little Brown Butter. Add 2 Lobster medallions to each plate. Remove Bonito Bavarois from the fridge, stir to soften then add a spoonful onto the plates. Add Pickled Carrots and garnish with watercress leaves. Lightly sprinkle with Kombu Dust and salt flakes.