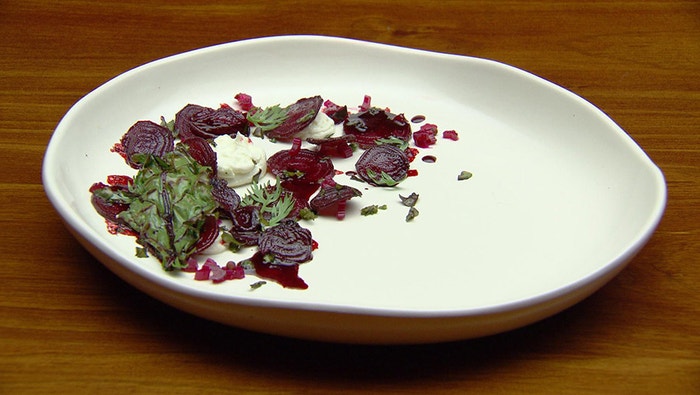 Steps
Preheat oven to 180C.
For the Pickled Beetroot Stems, place the chopped beetroot stems into a small bowl and set aside.
Place remaining ingredients and 1 tablespoon of water into a small saucepan. Bring to a boil then reduce heat and simmer for 5 minutes. Remove from heat and pour over the chopped beetroot stems. Allow to pickle for 30 minutes. Strain, discarding liquid, ginger and peppercorns and set pickled stems aside until serving.
For the Beetroot Reduction, place all ingredients into a saucepan. Place over a high heat and bring to a boil. Reduce the heat to low and simmer until reduced and syrupy. Strain through a fine mesh sieve and set aside at room temperature, until serving.
For the Roasted Beetroots, peel and slice baby beetroots into 2mm thick rounds.
Place onto a large, lined baking tray. Drizzle beetroots with oil and lightly sprinkle with salt. Cover beetroot slices with a piece of baking paper and then another baking tray.
Place in oven to roast until tender, about 10 – 12 minutes. Remove from oven and set aside, at room temperature, until serving.
For the Charred Beetroot Leaves, place a griddle pan over high heat.
Drizzle beetroot leaves with olive oil and season with salt. Place onto the hot griddle pan and cook until charred, about 1 minute on each side. Remove from pan and set aside until serving.
For the Goats Cheese Mousse, place the goats cheese into the bowl of a stand mixer fitted with a paddle attachment. Beat on medium speed until the goats cheese is light and fluffy, scraping down the sides of the bowl if necessary. Add double cream and salt and mix on a medium speed until cream is fully incorporated, about 30 seconds. Transfer to a piping bag and set aside in fridge until serving.
To serve, pipe three rounds of Goats Cheese Mousse onto each serving plate. Add Roasted Beetroot and scatter with Pickled Beetroot Stems and Charred Beetroot Leaves. Drizzle with the Beetroot Reduction and garnish with carrot stems.