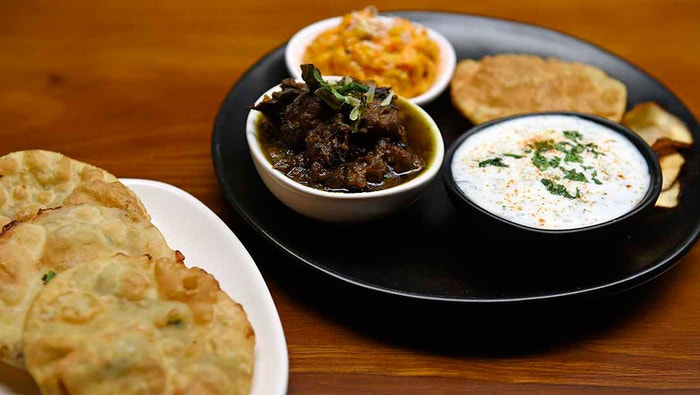 Steps
Preheat oven to 160C.
To make the South Indian Lamb Curry, heat 2tbsp of the ghee in a heavy flame proof casserole pan on the stove over medium heat.
Add peppercorns, cumin seeds, cardamom pods and chillies and stir to toast off until fragrant, about 1 minute.
Add onions and garlic and fry until soft then add meat and fry until brown. Add chilli powder, turmeric, coconut milk, nutmeg and ½ cup water and cook, stirring for 1 minute. Cover with lid and place into the oven until meat is tender, about 1 ½ hours.
Once cooked, remove dish from oven. Uncover and place back onto stove over medium heat. Add fresh coriander and mint and stir through. Reduce heat to low and simmer on the stove until meat pulls apart easily with a fork.
In a separate frypan, heat remaining 1 tbsp ghee. Add chopped curry leaves and fry until crisp, set aside on paper towel.
Once meat is ready, turn off heat and garnish with fried curry leaves and some chopped coriander. Set aside, keeping warm.
To make the Onion Stuffed Fried Bread Combine flour, salt, ghee and 75ml water. Bring together to a ball, adding more water if necessary. Knead to a soft dough and wrap with cling wrap. Set aside in the fridge for 10 minutes to rest.
Meanwhile, heat 1 tbsp of vegetable oil in a frypan over medium heat then add spring onion, turmeric, amchur and a pinch salt and sauté until soft then remove from heat and set aside to cool.
Half fill a large saucepan with vegetable oil and heat to 180C.
Remove wrapped dough ball from the fridge and portion dough into 8 pieces. Roll portioned dough into balls then use a rolling pin to roll into thin discs about 3mm thick.
Divide reserved sautéed spring onion mixture into the middle of the disc and carefully pull edges over to seal onion inside. Gently roll out with a rolling pin to a disc again. Place stuffed dough discs into preheated oil and deep fry until puffed and golden, about 2 minutes. Set aside on paper towel. Reserve oil on heat for Parsnip Chips.
For the Parsnip Chips, peel parsnips and slice thinly, width ways, on a mandolin. Add to reserved hot oil and deep fry until golden and curled. Set aside on paper towel and sprinkle with salt and vinegar.
For the Carrot Pudding, bring milk to the boil in a medium saucepan. Add cardamom and grated carrot, reduce heat and simmer until soft.
Meanwhile, place chopped nuts onto a paper lined baking tray. Roast in the oven until golden, about 5 minutes.
Add roasted nuts to simmering carrot mixture along with remaining ingredients and continue simmer until smooth and creamy, about 20-25 minutes. Remove from heat and set aside keeping warm.
For the Onion Raita, combine all ingredients in a bowl and mix well until smooth. Garnish with coriander and set aside.
To serve, place a sample of each element on the plate. Garnish with some chopped coriander.