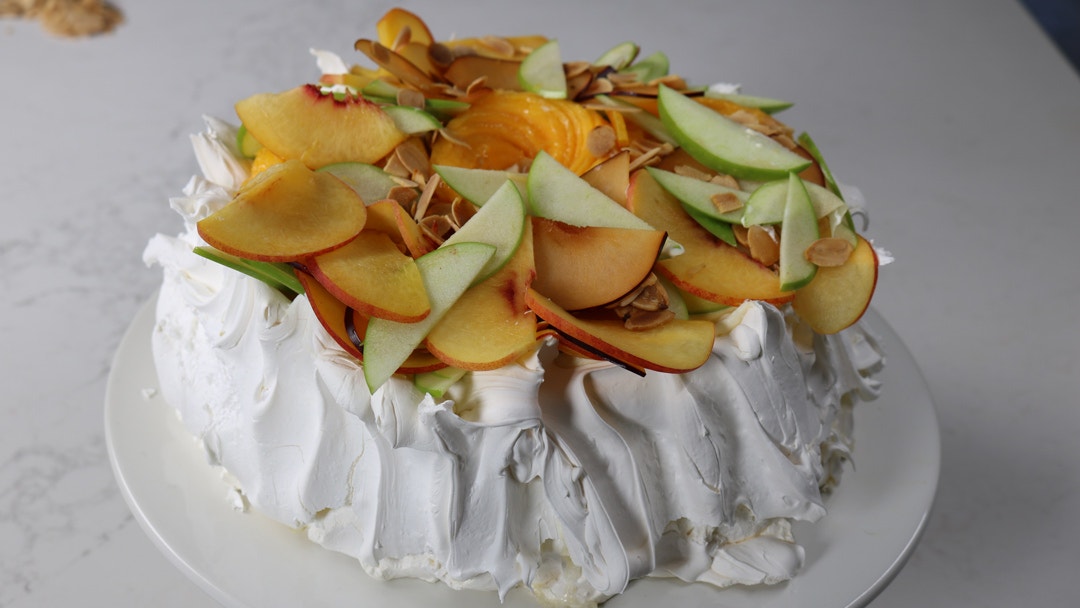 Steps
Preheat your oven to 180°C.
Clean a metal bowl with cotton wool or a clean cloth to ensure it is totally clean and grease free – very important.
Separate eggs, setting egg yolks aside for another use. Make sure no egg yolks in egg whites as it won't work.
Using an electric stand mixer or hand beaters, beat the egg whites on a medium setting until soft peaks form.
Once soft peaks appear, add sugar bit by bit, beating well between each addition to ensure the sugar is dissolved.
Turn the mixer up to high until the mixture thickens and the sugar has completely dissolved. It needs to reach the ribbon stage – when a spoonful of the meringue mixture poured back into the bowl sits on the surface like a ribbon.
Slow the machine, add the lemon drops, and sprinkle in the corn flour, then continue to beat until mixture is thick and glossy.
Line an oven tray with baking paper. Use an upturned bowl to draw a 22cm circle onto the paper.
Spoon the mix on to the prepared tray inside the circle and mold it into the shape you want. Don't mess with the mix too much, though, as you want to get it in the oven quickly.
Place the tray in the middle of the oven and immediately turn the temperature down to 120°C. Don't use the fan. Put the stand mixer bowl in the fridge to cool.
Cook for 80-90 minutes, until the meringue has a hard crust, but don't let the pavlova colour. You may see a little sugar syrup seep out of the bottom but the crust should be firm. Inside, it will be soft and marshmallowy. Once cooked, turn oven off and leave pavlova inside with door ajar to cool slowly.
Once the pavlova has cooled to room temperature make the Chantilly cream.
For the Chantilly cream, use the cooled stand mixer bowl with whisk attachment. Pour cream into bowl and whip to soft peaks, gradually add the icing sugar and beat to firm peaks being careful not to over whip.
To Assemble, transfer pavlova to a cake stand and decorate with Chantilly cream and seasonal fruit, nuts and any of your favourite toppings.