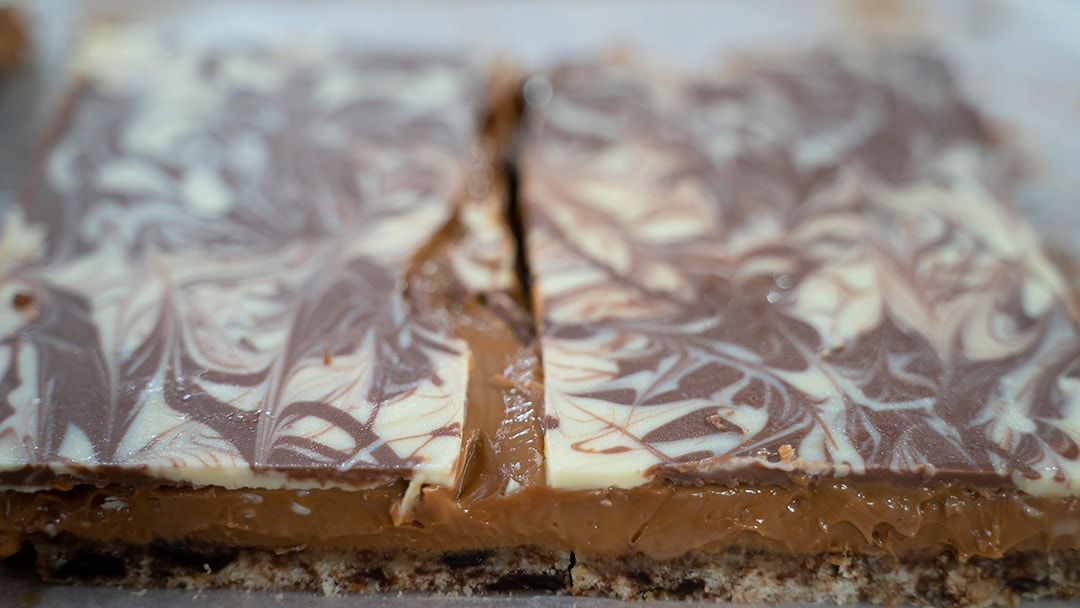 Steps
Grease and line base and 2 long sides of a non-stick 27.5 x 17.5cm top measurement (3.5cm) brownie & slice pan with baking paper.
Preheat oven to 180C fan-forced. Put the prepared shortbread in a bowl and crumble pudding over. Mix well. Transfer to base of prepared pan. Press firmly into pan.
Empty caramel tins into bowl. Whisk until smooth. Pour over biscuit base then tap pan on bench to spread evenly. Bake for about 18-20 minutes then remove from oven. Cool.
Melt white chocolate with 3 tsp oil in a heatproof bowl over a pan of simmering water. Repeat with another bowl, milk chocolate and 3 tsp oil.
Pour milk chocolate in a wide zigzag pattern over the caramel, follow this with the white chocolate (to create alternate coloured pattern) over caramel layer, tip pan gently to spread the chocolate to the cover the edges and using a toothpick, swirl to create a feathered or marble pattern and refrigerate until set. Using a dry warm knife, cut into long fingers.