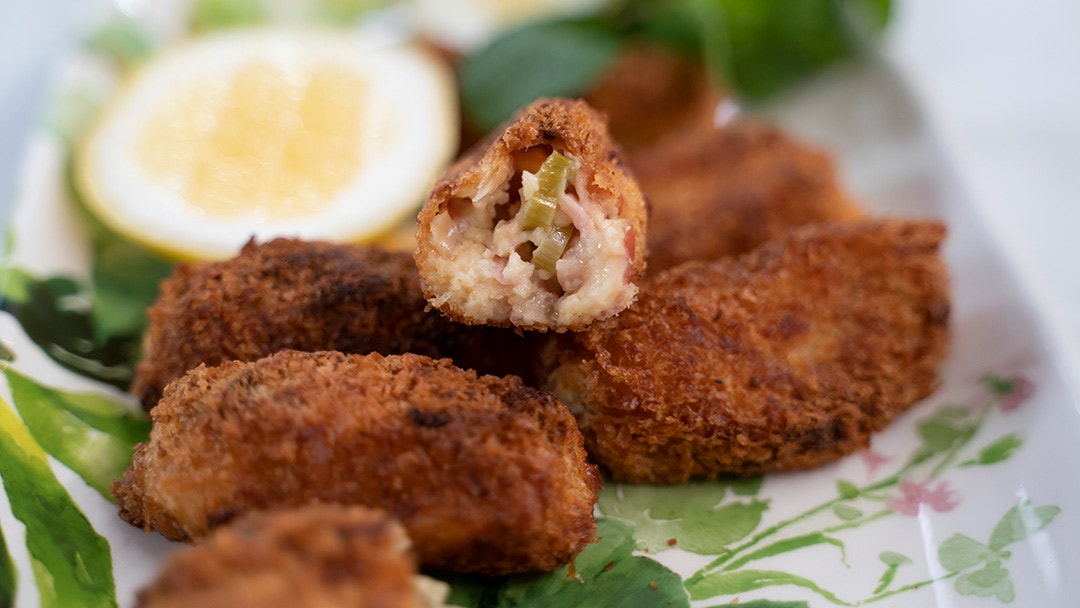 Steps
To make the bechamel sauce, put the milk in a saucepan and heat to just below boiling point, remove from heat.
Put the butter in a medium saucepan, and cook over low heat until melted. Add the flour and cook, stirring, for 2 minutes. Gradually add the milk, beating well with a wooden spoon (or silicon spatula) until very thick between additions. Cook, stirring over low heat for 10-15 minutes until very thick. Stir in Dijon mustard. Season to taste with salt, refrigerate in a shallow bowl until chilled completely.
Place the béchamel sauce, ham, gruyere cheese and onion in a bowl and scoop a large tablespoon of mixture into lightly floured hands and shape into about 10 croquettes (short, sausage shapes).
For the crumbing, lightly beat the eggs in a shallow bowl. Place the flour and breadcrumbs in separate small bowls, then roll each croquette in the flour, then the egg mixture and breadcrumbs, Refrigerate for about 30 minutes.
Pour enough oil into a large frying pan to come 5mm up the side of pan. Heat over medium-high heat. Cook croquettes, turning, for 4 to 5 minutes or until golden. Using a slotted spoon, transfer to paper towel to drain.
Serve croquettes with salad.