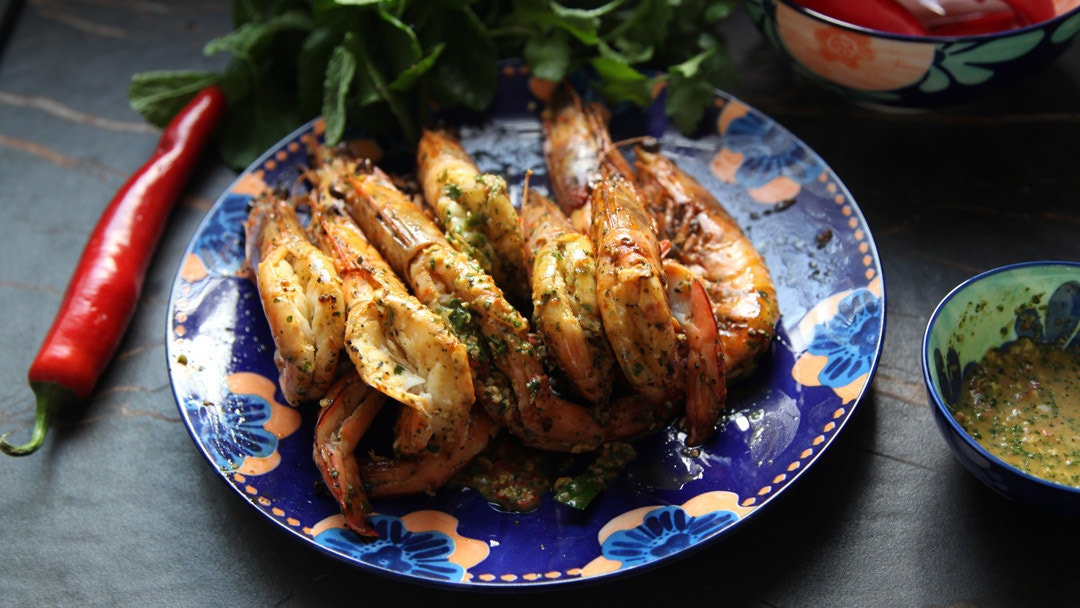 Steps
Make the Vietnamese salsa verde. Put garlic, ginger, lime leaves, chilli and herbs in a mini chopper and process using a stick blender until finely chopped. Add lime juice, soy and oil and blitz until combined. Reserve 2 tbs to serve.
Lay a prawn flat and with fingers flat on top to hold the prawn, using a serrated knife, butterfly the prawns along the back through the head, leaving connected at the legs. Remove vein and discard. Repeat with remaining prawns. Put in a large bowl. Add salsa verde and rub all over prawns.
Grill prawns. Heat a bbq grill plate to medium-high. Drizzle prawns with oil and season with salt and pepper.
Grill prawns shell-side down for 30 seconds to 1 minute. Turn and continue to baste with marinade and cook for further 30 seconds or until the shell starts to change colour and the flesh goes white.
Serve it up. Arrange prawns on a serving platter with lime cheeks. Drizzle with reserved Vietnamese salsa verde.