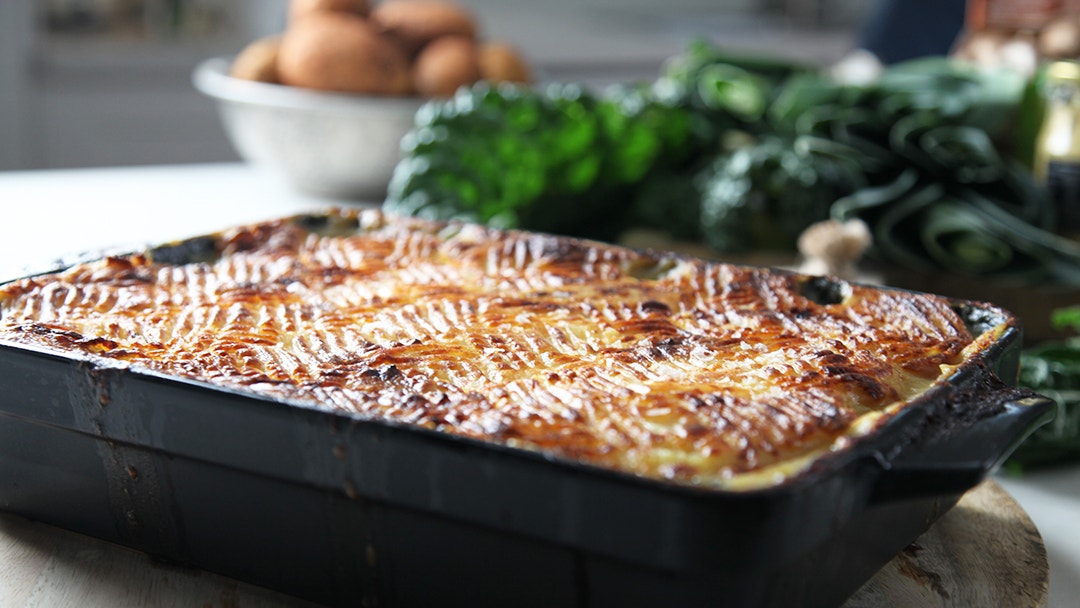 Steps
To make filling, heat the oil and half the butter in a large frying pan over medium heat, add the leek, garlic, mushrooms and carrot and cook, stirring occasionally, for 3 to 4 minutes, or until softened. Stir in thyme and nutmeg and season with salt and pepper.
Add the chicken and remaining butter and cook, stirring occasionally, for a further 5 minutes, or until changed in colour.
Add mustard, crème fraiche, stock and flour and stir well to combine. Season with salt and pepper and bring to the boil. Gently boil for about 15 to 20 mins or until the sauce is thickened slightly. Stir in silverbeet. Remove from the heat.
Transfer the mixture to a greased baking dish (10-cup capacity). Cool in the fridge while making topping.
Meanwhile, to make topping, place the potato in a large saucepan, cover with cold water and add the salt. Bring to the boil over high heat, then reduce the heat to medium and cook for 20 to 25 minutes until completely tender. Drain, then mash until smooth. Add the butter and milk and stir to combine. Stir in the cheese.
Preheat the oven to 200C (fan-forced).
Spoon mashed potato over filling in dish. Spread evenly then use a fork to create a pattern. Bake pie for 20 minutes, until the filling is bubbling underneath and the edges are starting to brown. Change oven setting to grill and cook for a further 5 to 7 minutes, or until topping is golden brown. Remove.