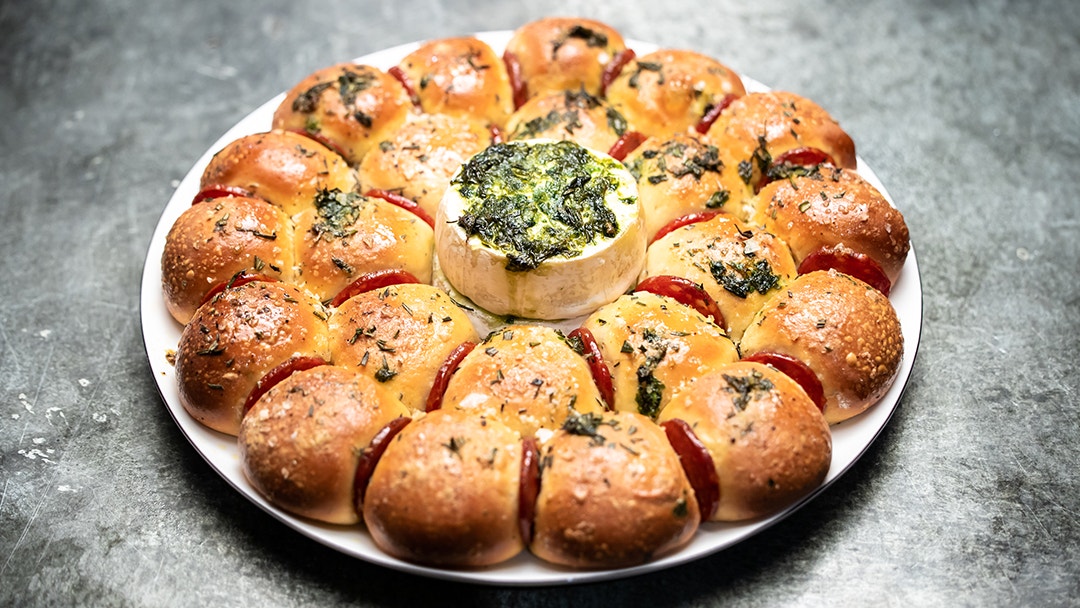 Ingredients
Paprika, garlic and rosemary bread rolls
Steps
To make bread rolls, melt butter in a small saucepan over a medium heat. Stir in milk and sugar and remove from the heat. Transfer to a heatproof jug – mixture should be lukewarm. Stir in the yeast and cover with a clean tea towel. Stand jug in a warm place for 10 minutes, or until foamy.

Meanwhile, to make parsley oil, combine all ingredients in a mortar and pestle and pound until parsley is finely chopped and mixture is combined.

Place the flour, egg, egg yolk, rosemary, salt, garlic powder, paprika and yeast mixture in a large bowl of an electric mixer fitted with a dough hook. Add 1 tablespoon of parsley oil. Knead on low speed for about 5 minutes until combined. Increase speed to medium and knead until dough is smooth and elastic and comes away from the side of the bowl. Place dough in an oiled bowl and cover with a tea towel. Stand in a warm place for about 1 hour or until doubled in size.
Punch down dough then transfer to a lightly floured bench. Divide dough into 22 equal portions (37g) and roll each portion into a ball.
Remove brie wheels from fridge and place one wheel in the centre of a round oven tray lined with baking paper. Arrange dough balls around the brie. Place pepperoni in between the dough balls. Set remaining brie wheel aside. Cover with greased plastic wrap and stand in a warm place for 45 minutes.
Preheat the oven to 180C (fan-forced).
Remove plastic wrap from wreath. Using a small sharp knife, make 4-5 slits in the brie wheel. Spoon some of the parsley oil over brie in centre of wreath. Top with remaining brie wheel and repeat. Brush dough balls with beaten egg, then sprinkle with rosemary and salt.
Cook in the oven for about 20 minutes, or until bread is golden brown and brie is soft in the centre. Remove from the oven.
Spoon remaining parsley oil over brie and rolls and serve immediately.