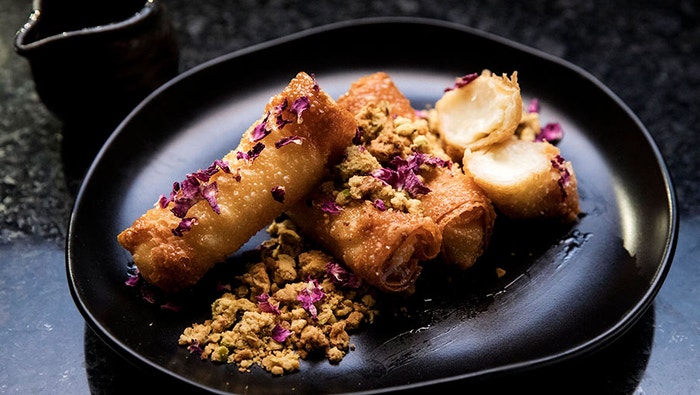 Steps
Preheat oven to 200C.
For the Rose Water and Orange Blossom Syrup, place sugar, lemon juice and water in a medium saucepan over high heat and stir until sugar has dissolved then continue to cook until the syrup comes to the boil.
Reduce heat to medium-low, and allow the syrup to simmer for 6-7 minutes.
Remove from heat and stir in the rose water and orange blossom water, then set aside to cool.
For the Ricotta, place milk, vinegar, sugar, rose water and orange blossom water in a small saucepan over high heat and stir until sugar has dissolved. Continue to cook until curds begin to form, about 3 minutes. Sit a fine sieve over a bowl. Pour the curd into the sieve and allow the mixture to strain and cool down in the fridge.
For the Custard, mix the cornflour and water together in a small bowl until well combined. Place the milk, sugar, rose and orange blossom waters in a small saucepan, mixing until sugar has dissolved. Bring to a simmer, then add the cornflour water mixture and whisk vigorously until mixture thickens and coats the back of a spoon. Remove from the heat, transfer to a clean bowl and place in the freezer to cool down quickly.
Once the ricotta and cornflour custard have cooled, mix together in a bowl until well combined.
For the Phyllo, place flour, olive oil, vinegar and salt in a stand mixer fitted with a dough hook attachment. Mix ingredients together, then with the mixer still running, add water in a slow and steady stream and continue to mix until the mixture comes together and comes away from the sides of the bowl. Continue to knead dough in the mixer until dough is smooth and has an elastic texture, about 3 minutes.
Dust a clean work surface with a mixture of cornflour and flour (equal parts). Turn out dough onto the dusted work surface and knead for 30 seconds then shape the dough into a ball. Cover in plastic wrap and leave on the bench to for 10 minutes.
Divide rested dough into 8 portions. Using a pasta roller machine, roll out dough starting on the thickest setting, passing it through 3 times before reducing the thickness, one setting at a time, until you reach the thinnest setting.
Cut each length of dough into 8 x 12cm strips, dusting each strip with the flour and cornflour mixture then set aside.
To cook the Znoud El Sitt, place canola oil into a wok and heat to 180C over a medium-high heat.
To assemble, lay 1 strip of phyllo horizontally in front of you on a clean work surface and place another strip across it vertically, creating a cross shape.
Place a tablespoon of the ricotta and custard mixture in the centre of the dough, where the two strips cross over. Fold the side strips in to cover the filling and then roll the parcel to form a cigar shape, sealing the edges with a little water.
Working in batches, drop cigars into the hot oil and fry until golden brown, about 2-3 minutes. Drain pastries on a paper towel then immediately dunk into sugar syrup for 10 seconds, then place onto a paper-lined tray.
For the Pistachio Crumb, place all ingredients into a medium mixing bowl and use fingertips to rub together until a sand-like texture is achieved. Spread the crumb mixture onto a baking tray lined with baking paper. Place into the oven to bake, stirring crumbs every 5 minutes, until golden brown and toasted, about 20-25 minutes. Remove from the oven and set aside to cool.
To serve, place pastries in the middle of a large round plate. Add Pistachio Crumb in a straight line across the top of half of the pastries. Sprinkle edible rose petals across remaining pastries. Serve with remaining Pistachio Crumb and syrup on the side.