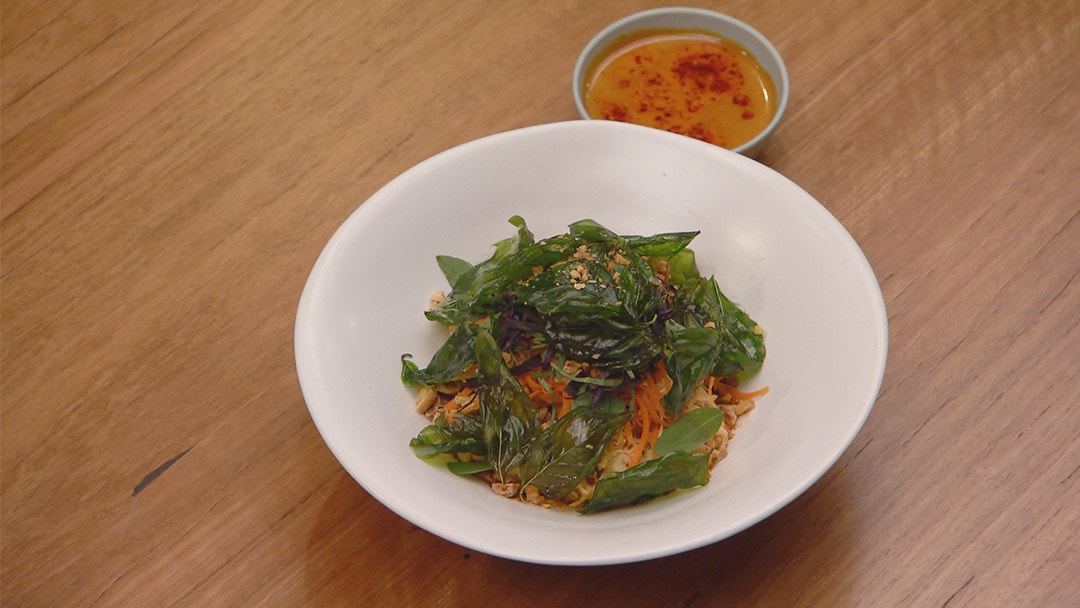 Steps
For the Chilli Oil, place peanut oil in a small saucepan over medium-high and heat to120C.
Place Thai chilli flakes and salt into a medium heatproof bowl. Carefully pour oil over the chilli flakes and stir. Set aside to cool to room temperature then transfer to a blender. Process on high speed for 30 seconds then set aside.
For the Poached Chicken, place all ingredients into a saucepan and add just enough water to cover. Bring to the boil then reduce heat to low. Cover with a lid and simmer until chicken is cooked through, about 20 minutes. Remove from the heat and set aside, covered, for 10 minutes.
Remove the chicken from the cooking liquid and place in iced water for 5 minutes to stop the cooking process. Remove from the water and set aside. Reserve the cooking liquid.
For the Spicy Bang Bang Sauce, place all ingredients in a medium bowl and whisk until well combined, adding reserved cooking liquid/chicken stock as required to obtain a thick, pourable consistency. Season to taste and set aside until required.
For the Pickled Carrots, place vinegar, sugar and 1 cup water into a small saucepan and stir over high heat until sugar has dissolved. Remove from heat. Add the carrot and chilli and set aside to pickle for 15 minutes, then drain and set aside in the fridge until serving.
For the Fried Basil Leaves, wash and thoroughly dry basil leaves. Heat oil in a saucepan to 135-150C. Place basil onto a slotted spoon, and carefully lower into the oil, taking care as the oil may spatter. Fry briefly for 5 – 10 seconds then remove from the oil and transfer to a plate lined with paper towel.
To serve, shred the chicken meat from the bones and place into a medium mixing bowl and toss with Spicy Bang Bang Sauce, to taste, until well combined.
Place chicken into the centre of a serving dish. Drizzle with additional Chilli Oil if desired. Top with pickled carrots, roasted peanuts, purple and Thai basil, fresh chilli and fried basil. Serve immediately with additional Spicy Bang Bang Sauce on side. Toss together before eating.