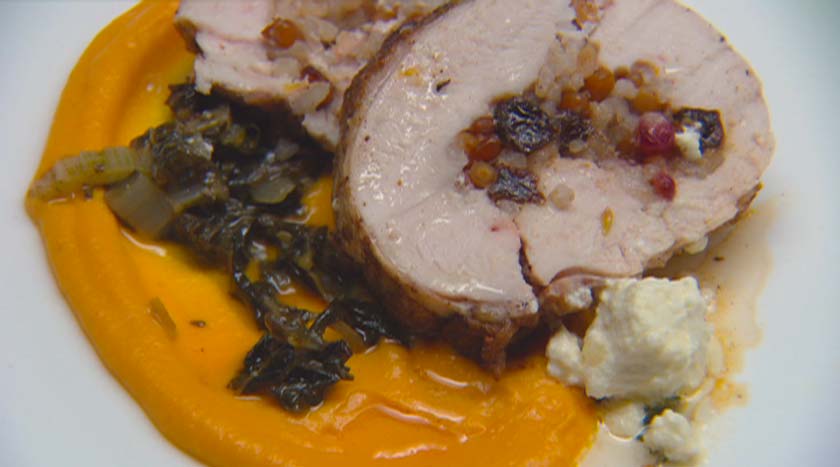 Steps
Preheat oven to 180C.
Pour chicken stock into a saucepan, and bring to the boil. Add rice, reduce heat to low, and cover with a lid. Cook for about 15 minutes or until tender, then drain through a sieve.
Combine rice, pomegranate, sultanas, 1/3 of the eschalots, 1 teaspoon salt, half of the garlic, cumin, pepper, allspice and pine nuts in a large bowl. Add 2 tablespoons of ghee, and stir well to combine.
Lay the chicken breasts on a large board, skin-side down. Place plastic wrap over breasts, and lightly pound with a meat mallet to an even thickness. Place half of the stuffing down the middle of each double breast, and tightly roll up to enclose. Secure with toothpicks. Place into a roasting pan.
Combine hot paprika, sweet paprika, smoked paprika and remaining 3 teaspoons of salt in a bowl. Rub spice mixture over the outside of the chicken breasts to coat. Drizzle with remaining 80g ghee, and place in oven for 40-45 minutes or until cooked through.
Meanwhile, place pumpkin and milk in a saucepan, and bring up to a simmer. Cook for 10 minutes or until pumpkin is tender. Drain and reserve milk. Transfer pumpkin to a blender and puree until smooth, adding reserved milk, 1 tablespoon at a time to desired consistency. Season to taste with salt and pepper, then set aside and keep warm.
Heat oil in a frying pan over medium-low heat. Cook remaining eschalots for 2 minutes, stirring, then add remaining garlic and chilli and cook for a further minute. Add silverbeet and cook for a further 5 minutes or until tender. Remove from heat and stir in coriander to combine. Season to taste with salt.
To serve, divide pumpkin puree among plates. Slice chicken roulade and place on top, and place silverbeet mixture to the side. Garnish with Persian feta.