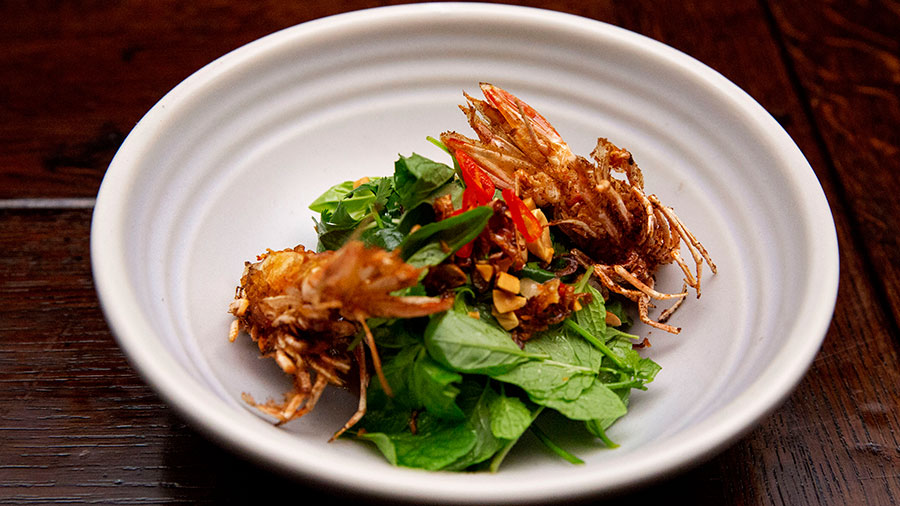 Steps
For the Sambal Prawns, place shallots, ginger, garlic, chillies, coriander roots and lemongrass, along with 1 tablespoon of water, into a food processor and blend to a smooth paste.
Heat a wok over medium heat. Add 2 tablespoons of the peanut oil and, when hot, add sambal paste. Cook until fragrant and the oil separates and rises to the top, about 20 minutes. Add a little water if the sambal gets too dry and stir frequently to prevent burning.
Once sambal paste has split, add kaffir lime leaves, palm sugar and lime juice and cook for a further 10 minutes.
Meanwhile, in a separate frypan, add remaining 2 tablespoons of peanut oil and place over medium high heat. Add the prawns and fry until just cooked through, about 2 minutes on each side.
Add the cooked prawns to the sambal paste, combine well and remove from the heat. Set aside until needed.
For the Herb Salad, place herbs, peanuts and shallots into a medium bowl and toss to combine. Set aside until needed.
Place remaining ingredients into a separate bowl, mix well to dissolve the palm sugar and set aside until needed.
For the Crispy Prawn Heads, heat oil in a small saucepan over high heat to 190C.
Drop a few of the prawn heads into the hot oil and fry in batches until golden and crispy, about 3 minutes. Remove the prawn heads from the oil and place on kitchen towel to drain. Season to taste with salt and set aside until ready to serve.
To finish the Herb Salad, spoon 2 – 3 tablespoons of the chilli and garlic dressing over the herbs. Toss well to coat the salad with the dressing.
To serve, place 2 Sambal Prawns onto each plate and top with a small handful of Herb Salad. Finish with 2 Crispy Prawn Heads on the side of each plate.