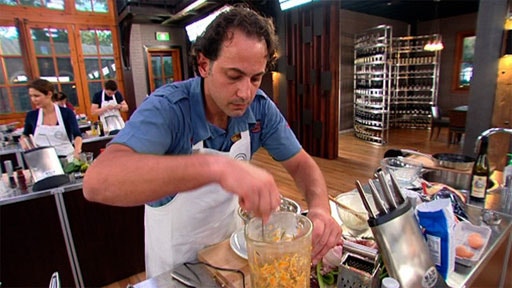 Steps
Heat olive oil in frying pan. Add garlic, onion, celery, carrot, sweet potato and rosemary. Cook until tender.
Cut the chicken into small pieces. Place chicken skin side down into the frying pan and seal. Add white wine and salt and pepper. Cook on a medium heat until chicken is cooked.
Pasta dough: place 300g of plain flour in a mixing bowl. Add 3 eggs and 3 pinches of salt. Use a fork to mix it together till all the flour is taken up.
Knead the dough for about 5 minutes, then wrap it in plastic wrap and let it sit.
Strain the filling in a colander over a mixing bowl. Press down so the liquid is removed. Set aside the liquid.
Placed the strained filling into a food processor and blend it down until soft and velvety. Add 1 egg and 1 cup of grated parmiggiano. Combine.
. Roll out pasta dough until 2/3mm thick. Add flour to the bench as you go to avoid sticking. Cut the dough into rounds with a cup. Make 16 rounds.
For each ravioli place a teaspoon of filling in the center of the cut out dough. Place a second piece of dough on top and press it down making sure you remove the air. Use a fork to press down the edges sealing them.
Repeat the above step for the 7 other ravioli.
Place all the ravioli in a pot of salted boiling water and cook for 6-9 minutes until done. Once the ravioli are cooked place them all on a tea towel and dry before placing them onto plates.
Take the saved liquid from the filling, reduce it on the stove, then spoon some of it over the plated ravioli.
Notes
Preparation time: 20 mins Cooking time: 30 mins
This recipe has been written by an amateur chef and has not been tested by the MasterChef food department.