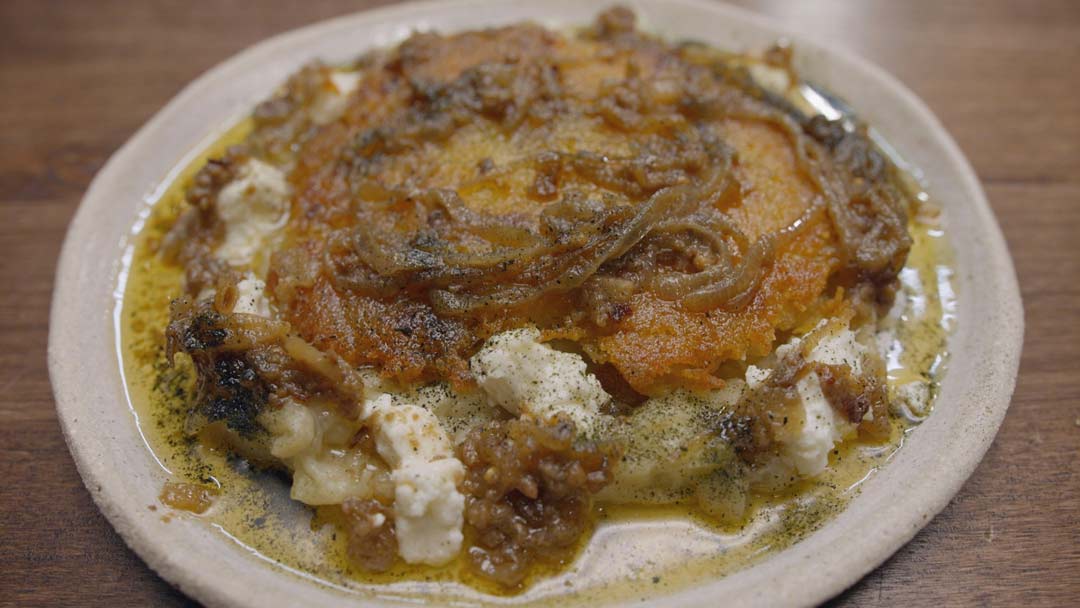 Steps
For the Potato Rosti, place peeled potatoes in a large saucepan, cover with water and bring to the boil over high heat. Continue to boil for 5 minutes. Drain potatoes and set aside to cool.
Coarsely grate potato. Shape the grated potato into four firmly packed disks, approximately 10cm wide, 1cm deep.
In a large non-stick frying pan over low-medium heat, melt the ghee. Add rosti to the pan and cook on one side only for 6-7 minutes or until golden and cooked through. Flip and cook on the other side if liked. Remove from the pan and set aside.
For the Anchovy Butter, in a large non-stick frying pan, combine ghee, olive oil, shallots, garlic, chilli flakes and cumin and cook over medium heat until onions are soft.
Add roughly chopped and whole anchovies to the pan and cook for 30 seconds.
Reduce the pan to low heat. Add the whole block of butter and slowly melt, stirring through. Remove pan from the heat. Season with salt and pepper and set aside.
For the Eggplant, place eggplant over a medium flame on the stove top for 5 minutes each side or until skin is charred and flesh is soft. Transfer to a bowl, cover with plastic wrap and set aside to steam for 10 minutes.
Halve the eggplant lengthwise and scoop flesh into a medium bowl, discarding the charred skin. Add 2 tablespoons Anchovy Butter, season with salt and toss.
Place shredded nori in a spice grinder and blend to a fine powder. Transfer to a small bowl and set aside.
To serve, spread eggplant across each serving plate. Place rosti on top, crispy side up. Crumble goats cheese around the rosti. Generously spoon some Anchovy Butter over and dust with nori powder.