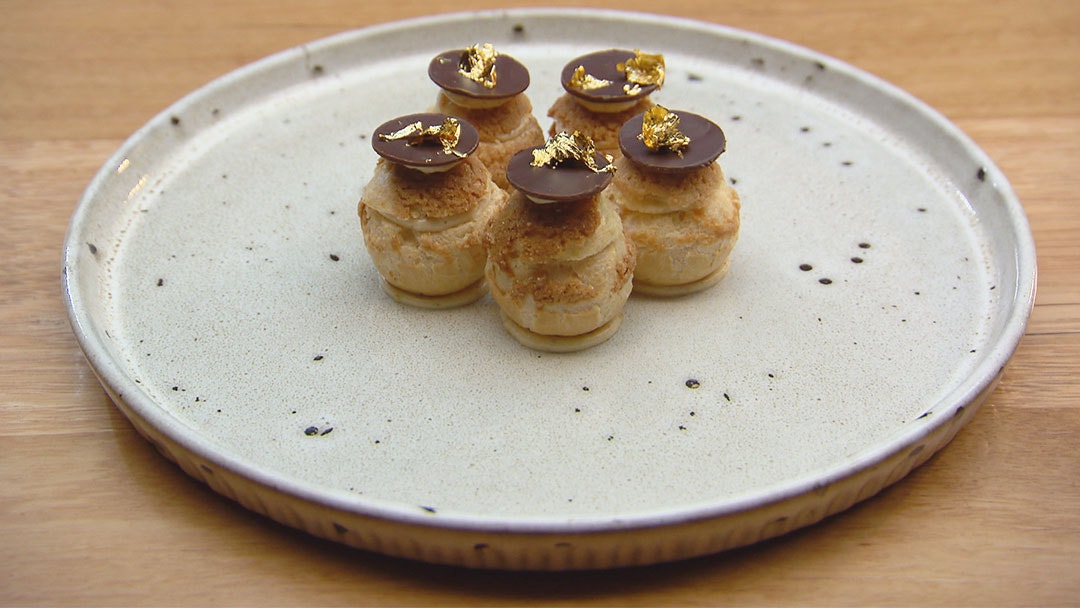 Steps
Preheat oven to 200C.
For the Craquelin, place ingredients into a small food processor and process together to a smooth dough. Wrap in cling film and place into freezer for 15 minutes.
Unwrap mixture and roll between two sheets of baking paper until 2mm thick. Return to the freezer until needed.
For the Choux, place butter, water, sugar and salt into a saucepan and bring to a rolling boil.
Add flour and cook until sticking to the bottom of the pan and mixture forms a ball, about 2 minutes.
Transfer dough to the bowl of a stand mixer fitted with a paddle attachment. Mix dough on low speed until no longer steaming, about 2-3 minutes.
Increase the speed to medium and add the eggs one at a time, beating well between additions until a glossy dough is formed. Transfer dough to a piping bag and set aside.
Pipe the dough onto lined baking trays into 3cm balls. Flatten the top of each with a clean wet finger then top with a 3cm round of Craquelin.
Bake until completely golden and set, about 25 minutes. Remove from the oven and set aside to cool.
Reduce oven to 160C.
For the Hazelnut Praline, place hazelnuts onto a lined tray and bake in oven until lightly golden, about 12 minutes. Remove from oven and set aside.
Place sugar into a saucepan and bring to a boil. Allow to caramelise until dark amber in colour.
Remove from the heat and pour over hazelnuts. Set aside to harden.
Break into shards and transfer in batches to a small food processor. Process until no longer gritty and a completely smooth paste forms.
For the Mousseline, place eggs, flour and sugar into a saucepan then whisk in milk until smooth and combined. Place over medium heat and stir continuously with a silicon spatula until thick and mixture reaches 83C. Remove from the heat and pass through a sieve. Set aside to cool over an ice bath.
Once cool, transfer to the bowl of a stand mixer and add remaining ingredients. Whisk until thick and stable. Transfer to a piping bag and set aside in the fridge.
For the Tempered Chocolate, place 100g chocolate into a microwave safe plastic bowl and microwave until just melted, stirring every 30 seconds to ensure chocolate doesn't overheat.
Once melted, gradually add the remaining 100g chocolate, stirring after each addition until melted.
Spread tempered chocolate onto a sheet of acetate. Once the chocolate has matte appearance and is semi set, cut out discs with a cookie cutter the same size as the choux balls, approximately 5cm.
To assemble, slice choux open and fill base with 1/3 teaspoon Hazelnut Praline Paste and top with crisp pearls. Top with some Mousseline and cover with top of the choux. Pipe a small amount of Mousseline on top and add a Tempered Chocolate Disc, shiny side up. Garnish with gold leaf. Pipe Mousseline onto bases of choux and arrange in a circle of 5 per serving plate.