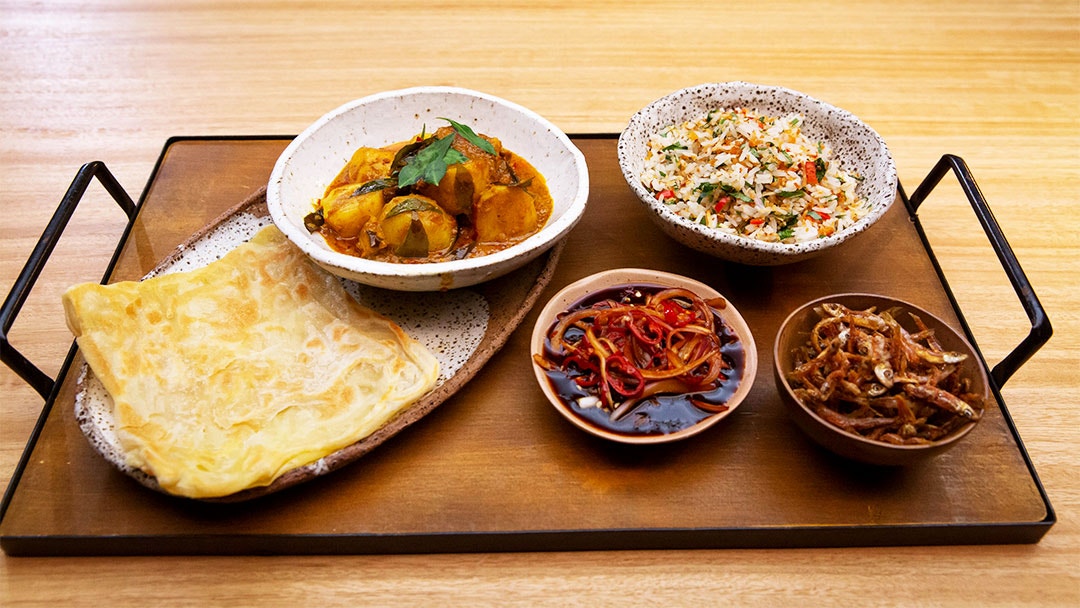 Ingredients
Fried Whitebait with Onion Chilli Relish
Steps
Preheat oven to 170C.
For the Rempah, cover dried chillies in boiling water and place another bowl on top to weigh them down. Set aside to soak for 20 minutes. Drain through a sieve, reserving the water.
Place softened chillies along with remaining ingredients into a food processor and blend, adding enough chilli soaking water, to form a smooth paste. Set aside.
For the Malaysian Chicken Curry, place potatoes and 1 tablespoon salt in a small saucepan and cover with water. Boil until tender and drain in a colander.
Combine the oil, curry leaves, cinnamon, star anise and cloves in a large saucepan over medium heat and stir fry until fragrant. Add the Rempah and cook until the paste is pulpy and dark and the oil has split from the paste. Add coconut cream and water and stir until combined. Add the chicken and bring to the boil. Reduce the heat and simmer until chicken has cooked through and sauce has thickened, about 15 minutes. Add cooked potatoes and stir gently through. Season with sugar and salt, to taste. Remove from heat and cover to keep hot.
For the Herbed Coconut Rice, mix the rice and 1 teaspoon oil together in a small saucepan. Add the water and salt and bring to the boil. Reduce the heat to the low, cover and gently simmer for 10 minutes. Remove from the heat and fluff the rice with a spatula. Cover and set aside for 15 minutes.
Drain the shrimp, then process in a food processor to a fine crumb. Place into a frypan with 1 tablespoon oil and cook until foaming and golden. Remove from the heat and set aside.
Place the coconut on a baking tray and toast in the oven until golden brown. Remove from the oven and set aside to cool.
In a mixing bowl, place warm rice with remaining ingredients, then season with the sugar and salt to taste.
For the Roti, place ingredients into the bowl of a stand mixer fitted with a paddle attachment and mix for 3 minutes.
Divide into roughly 100g balls, oil each one well and roughly flatten between 2 pieces of baking paper. Set aside on the bench to rest for 15 minutes.
Grease a clean bench top space of 60x60cm, with melted ghee. Working with one portion at a time, place dough into the centre of the greased area and massage it with the palm of your hand in a circular motion while pressing down and outwards. Once it's as flat as possible, carefully hold the edges and stretch the dough outwards until it is tissue thin all over. Drizzle with 2 teaspoons melted ghee. Perform a letter fold – fold one edge in towards the centre, drizzle with ghee then fold the opposite edge over to make a rough square with 3 layers. Flatten out as thinly as possible then set aside and repeat with remaining portions.
Heat a medium non-stick frypan over medium heat with 1 teaspoon ghee. Cook the roti, turning once underside is very crispy and golden brown. Remove from the pan, season with salt and cover loosely with foil to keep warm. Cook remaining roti.
For the Onion Chilli Relish and Fried Whitebait, heat the oil in a small saucepan over medium heat. To check the oil is ready, rest a pair of chopsticks on the base of the saucepan. If a steady stream of bubbles emerges, the oil is ready.
For the relish, combine onion, chilli, lime juice, soy sauces and caster sugar in a bowl and set aside for 10 minutes. Stir to make sure sugar has dissolved and the onions are well coated in liquid.
Fry whitebait in the hot oil until crispy all the way through, about 10 minutes. Remove from the oil and drain on paper towel. Season with salt.
To serve, garnish curry with laksa leaf. Place onto a large serving platter with Herbed Coconut Rice, Fried Whitebait and Onion Chilli Relish in separate bowls and the Roti on a plate.