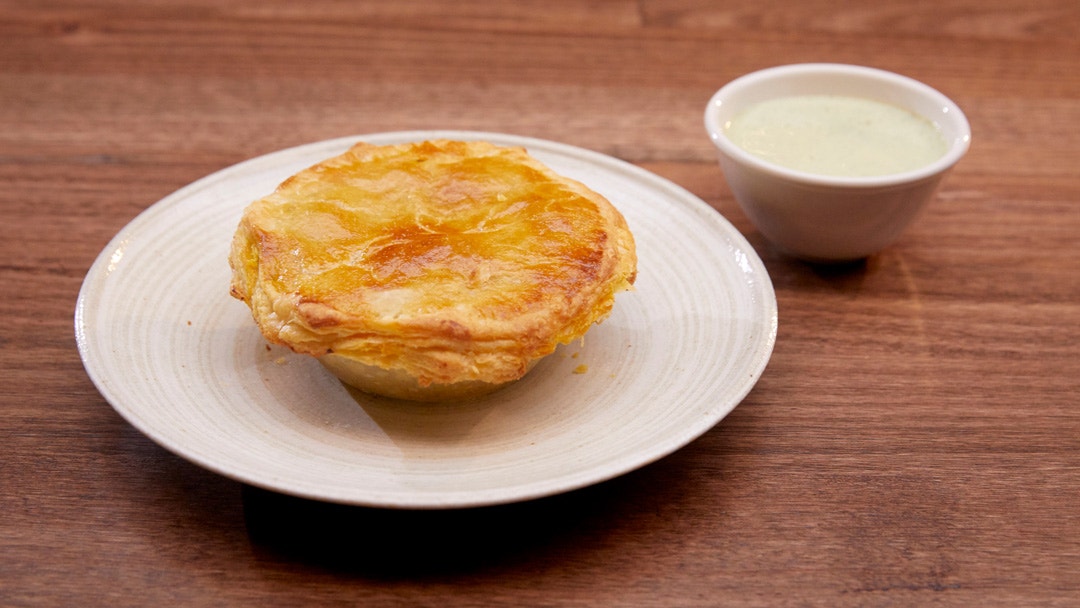 Ingredients
Coriander and Mint Yoghurt Sauce
Steps
Preheat oven to 210C.
For the Rough Puff Pastry, place flour, salt and butter into a food processor and pulse until roughly mixed and a crumb-like consistency. Add iced water and continue to pulse until just combined, taking care to maintain large streaks of butter.
Remove the dough from the food processor and transfer to a lightly floured surface. Working quickly, gently press the dough between fingertips so that it comes together in a dough then shape into a rectangle. Wrap with cling film and place into the fridge to rest for 10 minutes.
Once rested, unwrap the dough and turn out onto a lightly floured work surface. Dust the rolling pin with flour as needed and roll the dough out into a 20cm x 40cm rectangle.
Fold the short ends into each other to meet in the middle. Fold the two short ends over again to create a book fold. Give the rectangle of dough a quarter turn, 90 degrees to the left.
Lightly dust the dough and roll out again to approximately 20cm x 40cm. Repeat folding process, ensuring the dough is turned a further 90 degrees to the left once again. Wrap with cling wrap and rest in fridge for 10 minutes.
Once rested, remove from the fridge and roll the pastry out to 3-5mm thickness between 2 sheets of baking paper. Cut 4 x 14cm and 4 x 13cm circles from the dough and place onto a lined baking tray. Set aside in the fridge until ready to assemble.
For the Mauritian Curry Powder, remove and discard the seeds and stalks from the dried chillies.
Place chillies and remaining ingredients in a large pan over medium heat. Toss the pan regularly to keep the spices moving and colouring evenly. Once the spices are lightly coloured and giving off a rich aroma remove from the pan and set aside to cool.
Transfer toasted spices to a mortar and pestle or spice grinder and grind to a powder. Set aside in an airtight container until required.
For the Mauritian Beef Filling, place beef into a large bowl with 1 teaspoon each of grated garlic and ginger, salt and pepper. Mix and massage meat until well combined and set aside to rest for 10 minutes.
Place 1 tablespoon vegetable oil into a large pan over high heat. Add the beef in batches and cook until browned, about 3 – 4 minutes. Transfer beef to a pressure cooker and add the beef stock. Cook on high pressure for 20 minutes. Strain beef and reserve ½ cup cooking liquid.
Place 2 tablespoon vegetable oil into a large pot over medium to high heat. Add black mustard seeds, thyme sprigs and curry leaves and cook for 1 minute, stirring to prevent burning. Turn heat down slightly and add onion. Sauté until onion has softened and is translucent, about 5 minutes.
Add remaining tablespoon of grated garlic and ginger along with Mauritian Curry Powder. Cook for 5 minutes, stirring until fragrant.
Add tomatoes and reserved cooking liquid. Bring to the boil and add beef. Cover and simmer on low for 40 – 50 minutes until curry has thickened and meat is tender. Season with salt as required. Transfer curry to a tray and cool slightly on the bench. Remove thyme and curry leaf stems and place into the fridge, uncovered, to cool.
For the Coriander and Mint Yoghurt Sauce, place all ingredients in a blender and process on high speed until well combined. Season and add additional chillies, if desired. Set aside in the fridge until required.
To assemble pies, line 4 x 13cm wide pie tins with the larger circles of dough. Brush the edges with a little egg white. Divide the Mauritian Beef Curry filling evenly between the pastry cases. Top with the remaining rounds of dough and crimp together to seal. Brush the top of the pies with the remaining egg white then cut a small cross in the centre of each pie. Place the pies on a baking tray and bake in oven until pastry is puffed and golden, about 30-35 minutes. Serve hot with Coriander and Mint Yoghurt Sauce on the side.