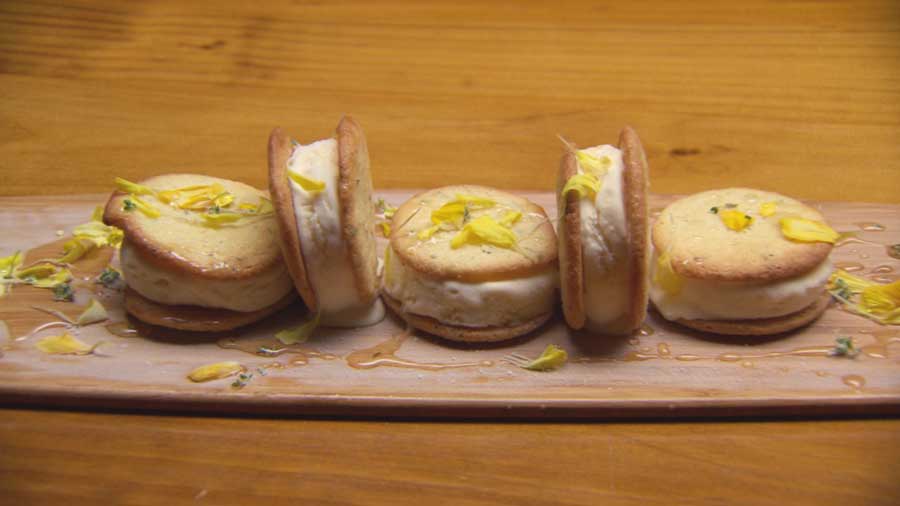 Steps
For the semifreddo
Whisk together sugar, eggs and egg yolks until combined. Place over a pan of simmering water and whisk continuously over gentle heat until the mixture becomes thickened and light in colour. Slowly mix through lemon juice and zest. Set aside to cool.
Once cool, fold through whipped cream. Pour into an 18 x 28cm plastic lined tin and transfer to the freezer for 3 hours or until set.
For the biscuits
Combine all ingredients in an electric mixer to form a soft dough. Spoon 12 tablespoons of mixture onto lined trays and bake for 12-15 minutes or until golden brown. Remove and set aside to cool.
Once semifreddo has set, remove from freezer and gently remove from the tin. Using a round cookie cutter the size of the biscuits (approximately 7cm) cut out rounds of semifreddo. Transfer back to the freezer until assembly.
For the syrup
Place all ingredients into a saucepan and simmer over medium heat until reduced and syrupy. Strain through a sieve and set aside.
To assemble
Place a round of semifreddo between 2 biscuits. Repeat with remaining biscuits and semifreddo. Place on serving platter. Drizzle with syrup and garnish with marigold petals and thyme flowers.