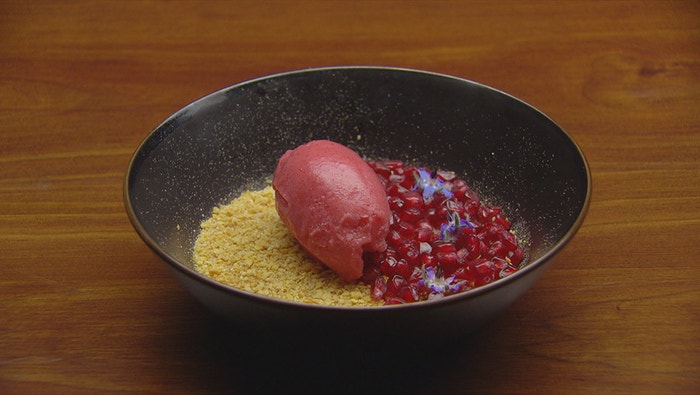 Steps
Pre-chill an ice cream machine. Preheat oven to 180C. Grease a 20cm square tin with butter.
For the Strawberry and Rosewater Sorbet, place 50ml of the strawberry puree into a small saucepan and place over a medium heat. Add the glucose, sugar, rosewater, citric acid, gelatine and salt, to taste. Simmer, stirring, until sugar and gelatine have dissolved. Remove from the heat.
Stir into the remaining strawberry puree. Churn the mixture in the ice cream machine for 30 minutes then transfer to the freezer until required.
For the Kanafeh, sprinkle an even, single layer of crushed cornflakes over the base of the greased tin and set aside.
Place the remaining ingredients into a medium saucepan and place over a medium heat.
Cook the mixture, stirring with a spatula, until thickened into a custard consistency, about 5 minutes.
Immediately pour the custard into the greased tin. Cover the surface with cornflakes. Drizzle melted butter evenly over the cornflakes. Sprinkle with another layer of cornflakes.
Place into the oven and bake until set and cornflakes are golden and crisp, about 20-25 minutes.
Remove from the oven and spoon into shallow bowls. Serve immediately with a scoop of Strawberry and Rosewater Sorbet and some fresh pomegranate. Garnish with edible flowers.