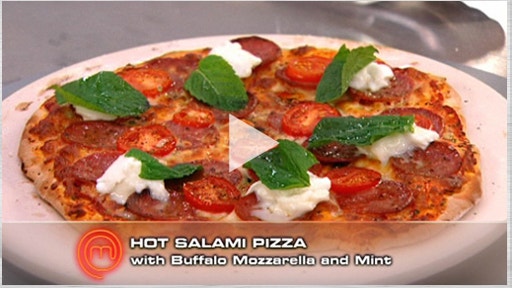 Ingredients
Pizza base (makes 4 bases)
Steps
For the pizza base, Combine yeast, sugar, salt, water and oil in a bowl, whisk to combine. Cover and set aside for 10 minutes until bubbles start to appear on surface. Transfer to a large bowl, add the flour and bring together in the bowl with your hands.
Turn onto a lightly floured surface and knead until smooth and elastic. Place into a bowl, cover and stand in a warm place until doubles in size.
For the pizza sauce, Tip tomatoes into a frying pan, add oregano, salt and pepper and cook 10 minutes until sauce thickens. Set aside to cool then blend or process until smooth.
Place pizza stone into the oven and preheat oven and stone to 250 degrees celsius fan forced for about 30 minutes.
Knock the dough down. Using 180g (about one-quarter) dough for 1 pizza, knead on a floured surface until smooth. Roll out until 5mm thick. Place dough onto the very hot pizza stone. Spoon over about 2 tbs pizza sauce then sprinkle with parsley and mozzarella. Top with salami and cherry tomatoes. Cook 6-8 minutes or until base is golden and crisp.
Tear the buffalo mozzarella and scatter over the pizza, top with mint leaves and serve.