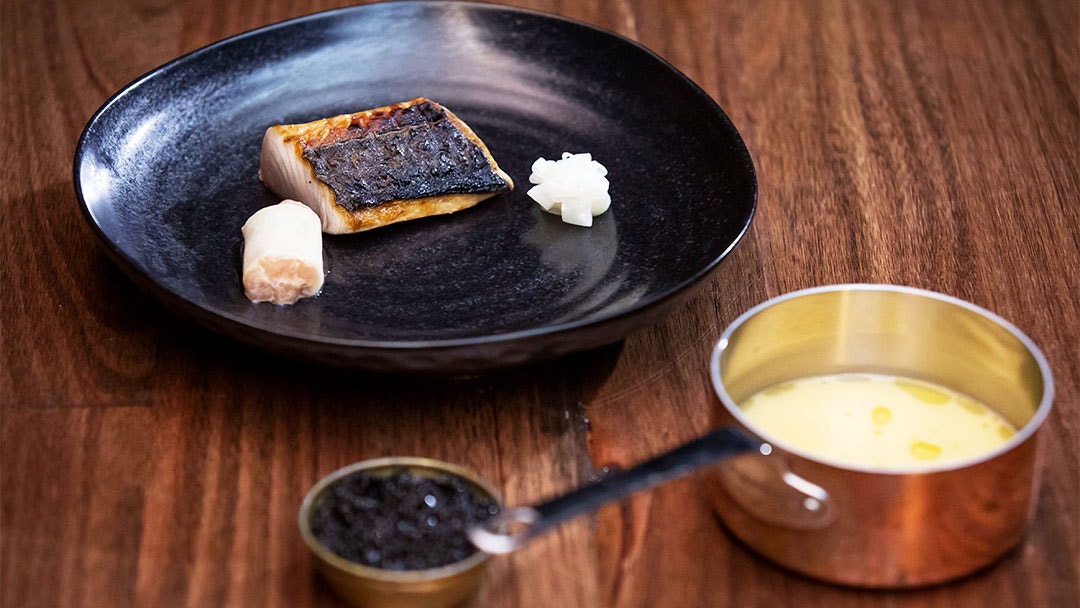 Steps
Prepare hibachi grill, BBQ or grill.
To prepare the Bonito, remove fillets and cut into loin and belly sections and set aside in the fridge.
Remove the head, separate the collars and chop the bones. Rinse thoroughly and place into a saucepan.
For the Bonito Stock, add the shallots and water to the head and bones place over medium heat. Bring to the boil then simmer for 30 minutes. Strain through a fine sieve into a bowl and discard solids.
For the Quick Cured Bonito, place bonito loin fillets onto a lined tray, skin side down.
Spoon salt and yuzu zest over the flesh side of the bonito. Set aside to cure in the fridge for 40 minutes. Remove from the fridge rinse the loins under cold water to remove the salt. Portion each loin into 4 and set aside.
For the Tare Seasoning, place ingredients in a medium saucepan over medium heat and simmer until reduced by 2/3. Remove from the heat and set aside.
For the Jamon Crème, place creme fraiche into a saucepan over low heat to melt then bring to a simmer. Add jamon and simmer for 1 minute.
Remove from heat and set aside to steep for 20 – 30 minutes. Strain the cream and set aside in fridge.
For the Kohlrabi Pickle, trim away top from the kohlrabi and peel.
Insert onto a Japanese lathe and shave into thin sheets. Trim the uneven edges off the sheets and cut into 16 x 15cm lengths. Reserve 8 lengths for serving. Cut 8 lengths into 1cm wide slices.
Place verjus and chardonnay vinegar into a small saucepan and bring to a simmer. Set aside in a bowl.
Place 1cm kohlrabi slices into pickling liquid for 10 seconds then drain and place onto a plate.
For the Bonito Tartare, combine ingredients in a bowl and mix gently to combine.
For the Bonito Beurre Blanc, place 40g butter into a saucepan over low heat. When melted, add shallots and cook gently until translucent, about 5 minutes. Add wine and simmer until almost evaporated.
Add Bonito Stock and simmer until reduced by 2/3s, about 15 minutes.
Strain mixture into a clean saucepan and return to the heat. Whisk in creme fraiche and slowly whisk in remaining 50g butter. Finish with Chardonnay vinegar and season with salt and more butter to taste. Transfer to a copper pot.
To serve, oil the hibachi wire rack and cured bonito skin. Place bonito onto the hibachi, skin side down, until skin is crispy and flesh is cooked 2/3 through. Remove from heat and place onto serving plates. Place tartare mix onto one end of the fresh kohlrabi sheets and roll tightly, taking care to keep tartare contained and place onto the plates. Garnish with caviar and Pickled Kohlrabi and serve with warmed Bonito Beurre Blanc.