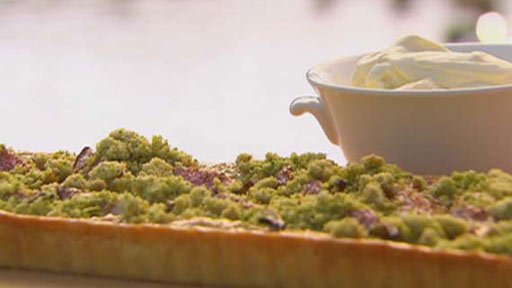 Steps
Preheat the oven to 160°C.
For pastry, place butter, sugar and salt into a food processor and process until creamy. Add flour and process until coarse breadcrumbs. Add egg and yolk and process for 10 seconds or until the dough comes together to form a ball.
Tip pastry onto a lightly floured bench and bring together with hands. Flatten gently into a flat rectangular shape and wrap in plastic film. Refrigerate for 20 minutes to rest.
Roll rested dough to 3mm thick and wrap loosely around a rolling pin. Gently roll over a 35cm x 7cm rectangular fluted tart tin with a removable base and press pastry into tin, moulding pastry up the sides of the tin with your fingertips, fill in any cracks with excess dough. Remove any excess pastry with your thumb by pressing down along the edges of the tin. Refrigerate for 30 minutes.
Place a sheet of baking paper into the chilled pastry in the tart tin, half-fill with baking beads or rice and bake for 12-15 minutes until edges are light golden. Remove weights and baking paper and bake for 5-10 minutes or until base is dry. Set aside.
For the Pistachio Crumble
For pistachio crumble, place pistachios in the chopper attachment of a stick blender and process to a meal. Add sugar and flour and process to combine, transfer to a bowl. Rub in butter with your fingers, leaving some small lumps of butter.
Line a baking tray with baking paper, tip crumble over tray and spread evenly. Bake for 5-7 minutes or until just golden. Set aside to cool.
For the Pistachio Paste
For pistachio paste, process all the ingredients together until smooth and creamy. Add a little water if too dry to come together.
For the Franipane Filling
For frangipane filling, whisk butter and sugar in an electric mixer until creamy. With the motor running, add eggs and egg yolk, one at a time, continuing to mix after each addition. Add almond liqueur, lemon zest, ground almonds, flour and pistachio paste and whisk until combined.
Spoon almond mixture into tart shell until ¾ full. (Left over frangipane can be stored in an airtight container in the fridge for up to a week). Gently press in fig wedges, placing them at regular intervals along the tart. Bake for 30 minutes or until golden.
Remove tart from oven, brush with warm honey and leave to cool. Sprinkle the crumble generously over the tart and serve with clotted cream on the side.