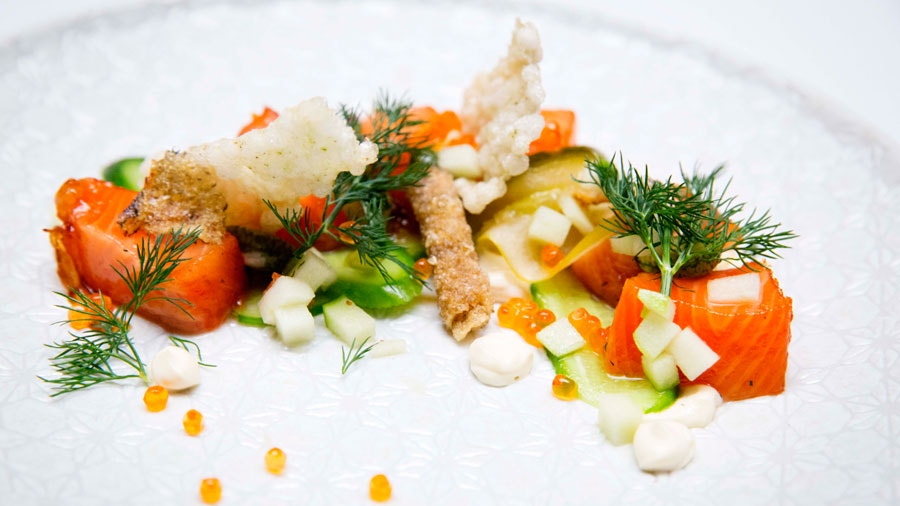 Steps
Heat oven to 100C.
To prepare ocean trout, combine brown sugar, salt and 30 grams dill in a bowl. Lay a piece of plastic wrap on bench. Spread half of curing mix onto wrap, lay trout fillet on top and cover with remaining curing mix. Press in firmly and wrap to seal well. Place in the fridge, to cure, for 2 ½ hours. Remove from fridge, dust off cure and cut into large cubes. Set aside.
For the crispy skin, scrape excess fat or flesh from skin and reserve. Place onto a paper lined baking tray and cover with another sheet of baking paper. Place in oven to dehydrate for 1 hour and 15 minutes.
Heat grapeseed oil to 180C. Deep fry skin in hot oil for 1-2 minutes until crisp. Drain on kitchen towel. Set aside.
For the smoked bone mayonnaise, place ocean trout bones and trimmings into a bowl and cover with cling film. Insert nozzle of smoking gun filled with apple wood chips and smoke bones for 20 minutes. Cover with 250ml grapeseed oil, re-cover and smoke for a further 30 minutes. Strain oil into a jug.
Place egg, mustard, white wine vinegar, lemon juice and salt flakes into a food processor. Process until combined then, with motor running, add smoked oil in a thin stream until thickened and emulsified. Season to taste and set aside in fridge.
For the dill crisps, bring a saucepan of water to the boil. Add tapioca pearls and boil for 15-20 minutes or until almost translucent. Drain and set aside.
Meanwhile, place 30ml grapeseed oil and dill in a small food processor and process to combine. Strain and stir dill through cooked tapioca. Spread tapioca onto a paper lined tray and bake for 1 ½ hours or until dehydrated. Remove from oven and break into shards.
Heat oil in a small saucepan to 220C. Very carefully fry shards until puffy. Drain on kitchen paper and set aside.
Meanwhile, for the pickles, place apple cider vinegar, apple liquer, sugar, garlic, celery seeds, dill seeds and chopped dill into a small saucepan. Bring to a boil, stirring to dissolve the sugar. Place mexican cucumbers, sliced lebanese cucumbers and sliced green apples into 3 separate bowls and cover each with pickling liquid. Leave to cool to room temperature then strain. Set aside.
For the garnish, combine olive oil, lemon juice and salt in a medium bowl. Add baby cucumbers and diced apple and toss to coat.
To serve, arrange trout cubes on 6 serving plates. Add pickled vegetables and dressed cucumbers and apples. Dot with smoked mayonnaise then crispy skin, dill crisps and garnish with samphire, dill sprigs, fennel fronds and trout roe.