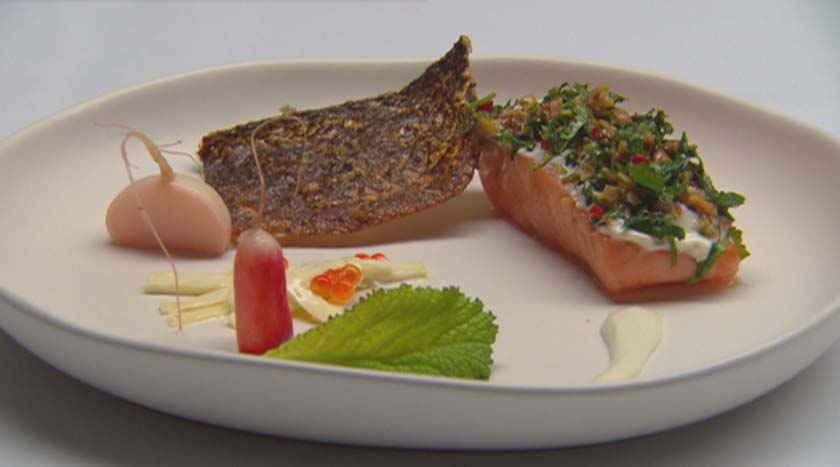 Steps
Preheat oven to 160C and line a tray with baking paper.
Heat oil in a large saucepan to 45C.
Heat a large saucepan of water to 45C.
Remove the skin from the salmon, then place skin on tray and season well with salt. Cover skin with another piece of baking paper, and place another flat tray on top. Roast in oven for 30 minutes or until skin is very crisp.
Once oil has reached 45C, carefully pour 100ml into a double sealed zip lock or food saver bag, and place one salmon fillet and a generous pinch of salt inside. Seal bag. Repeat process with remaining oil and salmon. Place bags into the water bath for 25 minutes or until the salmon is just cooked through, ensuring the temperature is maintained at 45C.
Meanwhile, bring rose verjuice to the boil in a small saucepan. Once boiling, carefully add radishes and turnips to pan. Immediately remove from heat, and set aside for 20 minutes to pickle.
Combine mayonnaise and lemon juice in a bowl. Add celeriac and stir to combine. Set aside.
For the tarator, combine yoghurt, half the lemon juice, tahini and garlic in a bowl. Season to taste. Combine remaining ingredients in bowl.
To serve, very carefully remove salmon from the bags, and pat dry with paper towel, then place on plates. Smear tarator sauce on top of the salmon fillets. Sprinkle walnut mixture over salmon to coat. Serve with pickled vegetables, celeriac, salmon roe and crispy salmon skin.