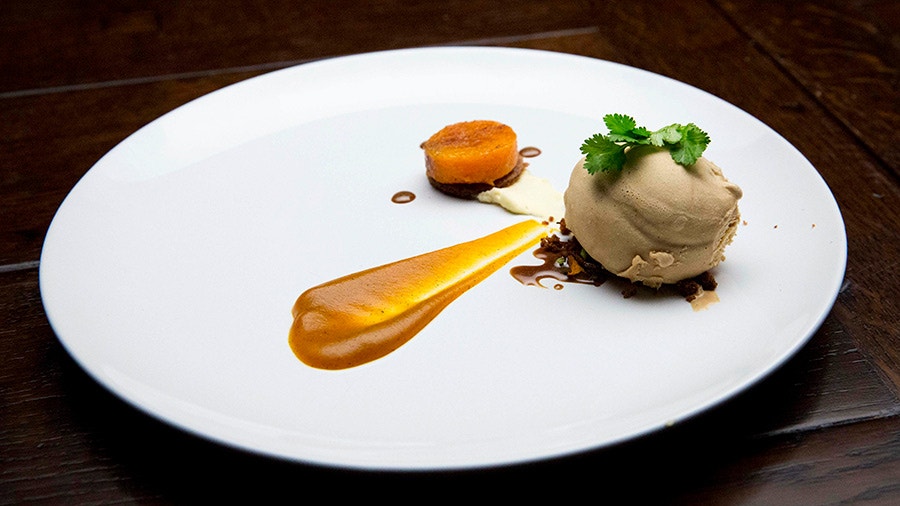 Ingredients
Cardamom Coffee Ice Cream
Butternut Pumpkin Fondant
Rum and Mascarpone Mousse
Steps
Turn on ice cream machine to pre-chill. Pre-heat oven to 120C.
For the Cardamom Coffee Ice Cream, combine cream, milk, coffee and cardamom in a medium saucepan, whisk together and bring to a simmer. Remove from heat and set aside.
Place egg and sugar in the bowl an electric stand mixer fitted with a whisk attachment and whisk until light and fluffy. With motor running, add hot cream mixture to the egg mixture and whisk until combined. Return the mixture to the saucepan and cook over low heat until mixture thickens and can coat the back of the spoon. Strain through a fine sieve into a medium bowl and set over an ice bath to cool. When cold, transfer mixture to ice cream machine and churn according to manufacturer's instructions. Once churned, transfer the ice cream to the freezer to set.
For the Vanilla Butternut Purée, bring a medium saucepan of water to the boil, add pumpkin and cook until soft, about 10 minutes. Drain the pumpkin and place into a blender, along with the sugar, butter and vanilla paste. Blitz the mixture until a smooth purée. Pass the purée through a fine sieve into a small bowl. Cover and set aside until ready to serve.
For the Butternut Pumpkin Crisps, trim pumpkin into a 10cm x 12cm rectangle and slice thinly on a mandolin. Spread pumpkin slices out onto a flat baking tray lined with baking paper and bake until dehydrated and crisp, about 45 minutes. Once crisp, remove from oven and set aside to cool on the tray.
Meanwhile, place sugar into a spice grinder and blitz to a fine powder. Sprinkle the powdered sugar over the pumpkin crisps and set aside until ready to serve.
For the Butternut Pumpkin Fondant, fill a medium sized saucepan two thirds full with water and bring to the boil. Add brown sugar and stir to dissolve.
Cut the pumpkin into 2cm thick slices, then use a 4cm cookie cutter to cut out 4 rounds from the pumpkin slices. Reduce heat until water is simmering and add the pumpkin fondants. Cook until slightly soft, about 7 minutes. Remove from the water and drain well.
Place butter into a large frypan and melt over a low heat. Add the pumpkin fondants to the pan and baste with the melted butter. Cook until fondants become slightly crispy and golden on the outside, basting regularly with butter and turning halfway, about 15 minutes. Place cooked fondants onto paper towel to drain then sprinkle the tops with brown sugar. Using a blow torch, caramelize the tops of fondants until firm and caramelised. Set aside until ready to serve.
Increase oven to 180C.
For the Dutch Spiced Biscuit, combine all ingredients in a medium bowl and bring together into soft smooth dough. Transfer dough to a sheet of baking paper and roll out to a thickness of 2mm. Transfer paper and dough onto a large baking sheet and bake in oven until crisp and golden, about 15 minutes. Remove from oven, and, while still hot, use a 4cm cookie cutter to cut out 4 rounds of biscuit. Set biscuit rounds aside on a tray to cool until ready to serve.
Reserve all biscuit offcuts and set aside on the baking tray to cool. When cool, crumble biscuit offcuts between fingers to a fine crumb. Set aside in an airtight container until ready to serve.
For the Rum and Mascarpone Mousse, combine all ingredients in a stick blender canister and use a stick blender to whip the mixture until light, fluffy and well combined. Place the mixture into a piping bag and set aside in the fridge until ready to serve.
To serve, place a spoonful of Vanilla Butternut Purée in the right hand corner towards the middle of each plate. From the bottom left hand corner, pipe some Rum and Mascarpone Mousse and spread towards middle of the plates, so it comes in contact with purée. Arrange some Butternut Crisps between the mousse and the purée. Sprinkle crumbled Dutch Spice Biscuit over the crisps, along with freshly chopped coriander. Place a round of Dutch Spice Biscuit adjacent to mousse and top with a pumpkin fondant. Place Cardamom Coffee Ice Cream on top of the Pumpkin Crisps and garnish with fresh coriander leaves.