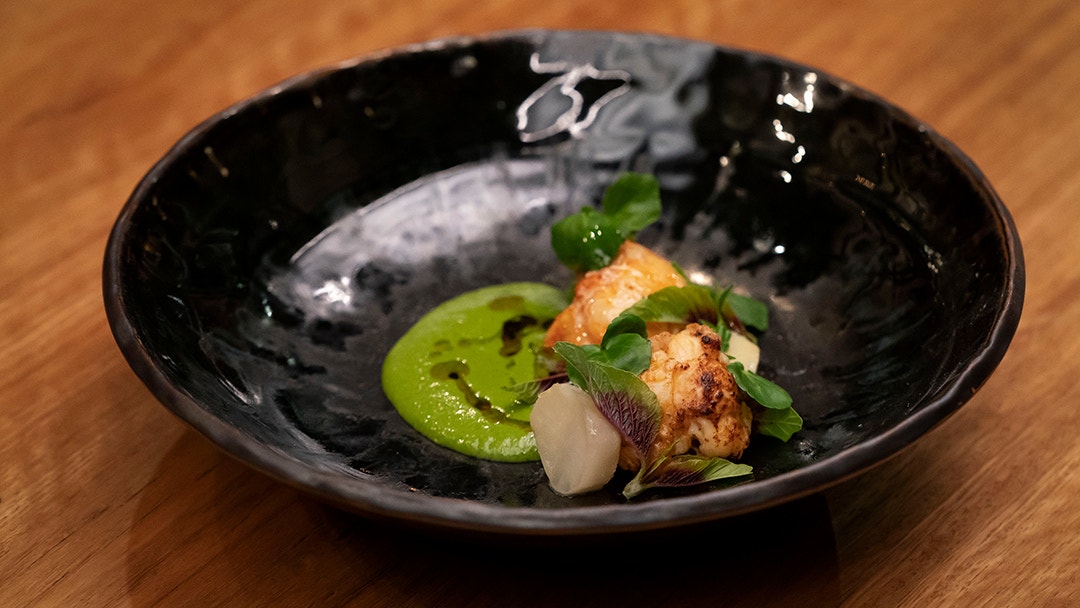 Ingredients
Shellfish Oil and Stock Emulsion
Steps
To prepare the bugs, separate bug heads from bodies and set aside. Cut either side of the bellies and peel belly shell away to reveal tail meat. Carefully separate tails from the shells and remove in one piece. Set aside.
To make the Shellfish Oil, place the heads and shells from 3 bugs into a small saucepan and add enough oil until half submerged. Cook over low heat until the shells are roasted and dark and the oil is fragrant and well flavoured. Strain through a fine sieve and set oil aside, reserve shells.
To make the Shellfish Stock Emulsion, place roasted heads and shells and 500ml water into a medium saucepan. Bring to the boil then simmer for 20 minutes then strain into a clean saucepan. Whisk in butter, one cube at a time, until emulsified. Set aside ¼ cup for the Watercress Emulsion and return the saucepan with the remainder to a low heat. Season with vinegar and salt, to taste.
Add the artichokes to the saucepan of Shellfish Stock Emulsion and cook until tender, about 10 minutes, stirring occasionally. Remove artichokes and set aside.
For the Watercress Emulsion, place ingredients into a blender and process until smooth, thick and green. Season with salt and vinegar, to taste. Set aside.
For the Poached Bugs, place butter into a medium saucepan and melt over medium heat until browned.
Add peeled bug tails and simmer very gently, spooning butter over, until just cooked, about 2 minutes. Transfer to a warm plate and season with salt.
To serve, arrange Poached Bugs and artichokes onto serving plates. Add Watercress Emulsion and Shellfish Oil to plates and garnish with watercress and amaranth leaves.