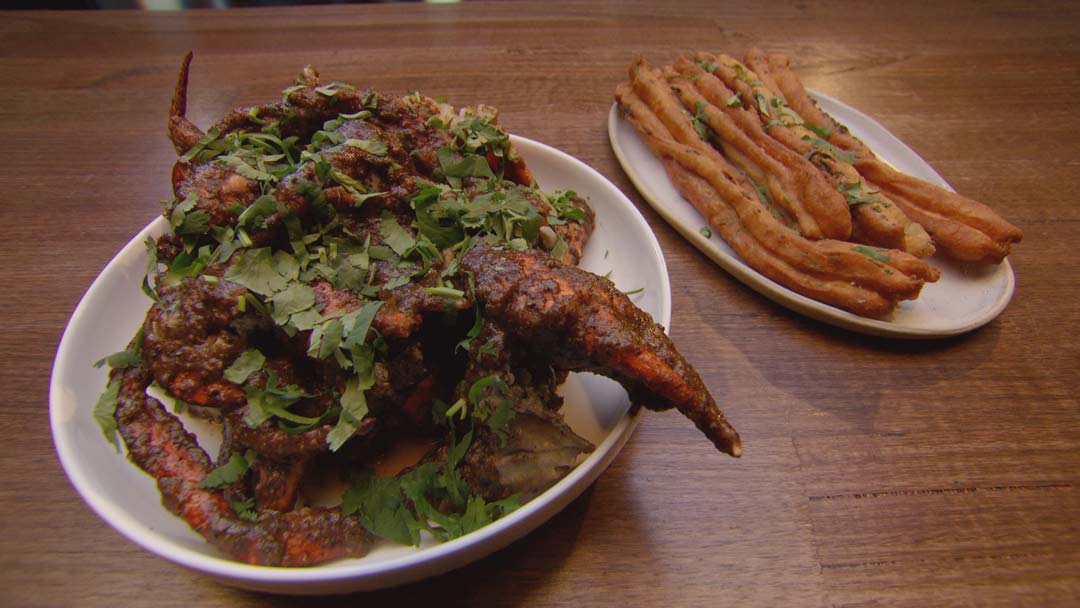 Steps
For the Fried Bread, combine bread flour, sugar, yeast, baking powder, salt, egg, grapeseed oil and water in the bowl of a stand mixer and use the dough hook attachment to mix until dough comes together.
Transfer dough to a floured surface and knead by hand until dough is smooth. Use a rolling pin to roll the dough into an oval, approximately 35x15cm.
Scatter chopped coriander over the dough. Fold the dough into thirds. Roll dough to an approximate 35x15cm oval, fold into thirds again. Place dough onto a floured tray, cover with a tea towel and set aside in a warm place to prove for 20 minutes.
Fill a deep fryer with vegetable oil and warm to 190°C.
Transfer dough to a floured surface and cut into 2-3cm wide strips. Press a skewer or thin piece of dowel down the centre of each strip of dough to leave a firm imprint and separate the layers along both edges. Stretch each portion of dough to 20cm length.
Carefully place dough into the deep fryer. Fry for 4 mins or until golden and cooked through. Drain bread on a paper towel lined tray.
For the Black Pepper Crab, clean the crabs and portion into smaller pieces. Use the back of a knife to crack the shell of the claws and legs. Set the crab aside.
In a large frying pan over medium heat, combine the ghee, onions, ginger, garlic, chilli and lemongrass and sweat for 20 minutes or until softened.
Meanwhile, in the jug of a Thermomix, combine black peppercorns, mountain peppercorns and dried shrimp and blend to a fine powder.
Add the pepper powder to the pan of onions, stir through and cook for 30 seconds to 1 minute. Add chicken stock, ketjap manis, palm sugar, oyster sauce, tamarind paste, light soy sauce, candlenuts and fermented soybeans and bring to the boil. Reduce to medium heat and simmer for 5 minutes.
Meanwhile, combine flours in a large bowl and mix well. Add the crab pieces and toss to coat.
Add crab to the deep fryer and cook for 2-3 minutes or until pale golden. Place crab on a paper towel lined tray to drain. Set aside.
Transfer curry to a Thermomix jug and blend to a smooth consistency. Transfer curry back to the pan and bring back to the boil. Reduce to desired consistency and season with shio koji.
In a large bowl, combine crab and curry sauce and toss to coat.
To serve, place crab and sauce in a serving dish. Scatter chopped coriander over and serve with Fried Bread.