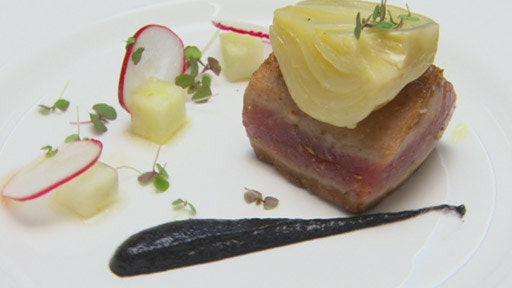 Ingredients
Cauliflower and squid ink puree
Steps
Dry roast spices in a small frying pan over medium heat until fragrant. Cool, grind to a fine powder.
For cauliflower and squid ink puree; place cauliflower into a medium saucepan, pour over the milk and bring to the boil, simmer until tender. Add squid ink and simmer for 5 minutes. Season with salt, strain cauliflower, reserving liquid. Place cauliflower in food processor and process until smooth, adding a little of the reserved liquid if necessary.
Pour stock into a medium saucepan and bring to a simmer, place quartered fennel in stock, and cook gently for 10 minutes or until tender. Drain.
Drizzle tuna with olive oil and sprinkle with spices. Heat a frying pan over medium-high heat until hot. Sear the tuna, 2 pieces at a time for one minute on all sides. Remove to a plate and season with salt.
To serve, combine lemon juice and olive oil in a bowl. Add radish and apple and toss to coat. Smear a line of cauliflower puree onto the plate, next to it place a piece of tuna and top with a fennel quarter. Decorate plate with dressed radish and apple and cress.
Notes
Preparation: 20 minutes Cooking: 25 minutes