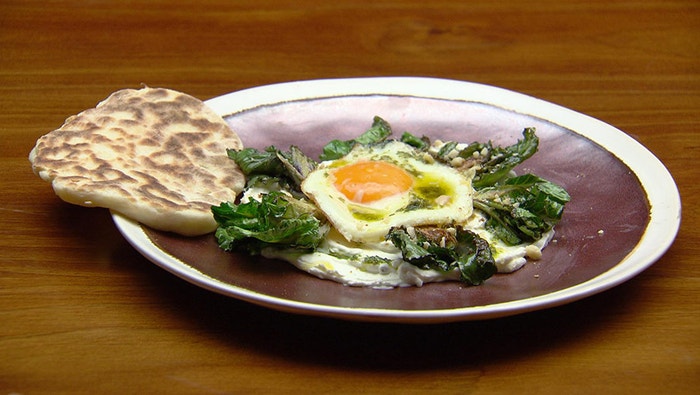 Steps
For the Hung Yoghurt, place all ingredients into a bowl and mix well to combine. Line a separate bowl with muslin cloth, then spoon the yoghurt mixture into the muslin. Bring the corners of the muslin cloth together and tightly twist to squeeze out as much liquid as possible.
Sit a sieve over a medium sized bowl. Place the muslin cloth of yoghurt into the sieve and weigh down with a heavy bowl on top. Set aside in the fridge for 45 minutes to allow excess liquid to drip through, then set aside in the fridge until needed.
For the Flat Bread, lightly flour a clean work surface.
Place all ingredients into a large bowl and mix to combine. Turn the dough onto the lightly floured work surface and knead the dough until stretchy and elastic, about 5 minutes.
Lightly dust the work surface with some additional flour. Divide the dough into 8 balls, then roll out into 5mm thick rounds.
Place a frypan over a medium-high heat. Drizzle pan with oil, cook each flat bread in the hot pan until lightly browned on both sides. Remove from pan and cover with a clean tea towel to keep warm. Repeat with the remaining dough balls.
For the Almond and Coriander Dukkah, place a small frypan over medium heat. Add coriander seeds and cook until fragrant, then add almonds and toast for a further few minutes.
Transfer the mixture to a mortar and pestle and crush until fine. Add salt and lemon zest, crush to combine, the set aside.
For the Gin and Mint Dressing, place gin into a small saucepan over medium heat and bring to a simmer. Remove from heat and stir in the lemon juice.
Place the mint leaves, lemon zest and coriander into a mortar and pestle and crush to a paste. Add mint paste to the gin and lemon, then whisk in the olive oil. Season with salt and set aside in the fridge.
For the Kalettes, melt the butter in a medium frypan over medium heat. Add kalettes, cut side down, into the pan and cook until caramelised. Turn kalettes over and cook for 1-2 minutes, then remove from the heat. Season with salt and set aside.
For the Fried Eggs, heat oil in a large non-stick frypan over a medium heat. Add the eggs and fry until just cooked through or to your liking. Remove from the heat and season with salt.
To serve, spread a tablespoon of Hung Yoghurt across each plate. Arrange Kalettes over the yoghurt top with a Fried Egg. Drizzle with Gin and Mint dressing and sprinkle with Almond Dukkah. Serve with with Flat Bread on the side.