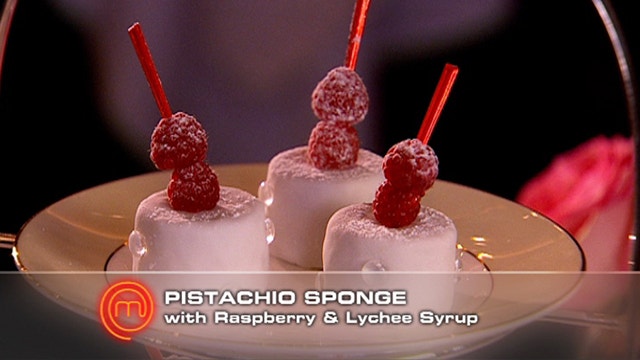 Steps
Preheat oven to 160°C. Grease a 19 x 30cm cake pan.
For the Victoria sponge, cream the butter and sugar in an electric mixer, then mix in the lemon zest. With the machine running, slowly add the eggs and beat until well combined. Fold in the flour, pistachios and baking powder. Pour the mixture into the cake pan and bake for 30 minutes or until a skewer comes out clean. Remove from the oven and allow to cool for 10 minutes before inverting the sponge onto a wire rack to cool completely.
To make the jelly, puree the lychees and raspberries in a blender until smooth. Pour the puree into a saucepan and heat over medium-low heat. Add the gelatine to the puree and stir until dissolved. Strain through a fine sieve. Pour into a silcone mat of 2cm round moulds and refrigerate for about 45 minutes until set.
Once cake is cool, cut rounds out of the sponge using a 5cm pastry cutter. Use a small paring knife, cut out a round dome out of each cake, large enough to fit a jelly and reserve. Insert a round of set jelly then cover with reserved cake. Turn cakes upside down. Roll royal icing into thin rounds about 5mm thick. Cover each cake. Decorate the cakes with sugar diamonds. Thread 2 raspberries onto a red toothpick and insert into the top of each cake.