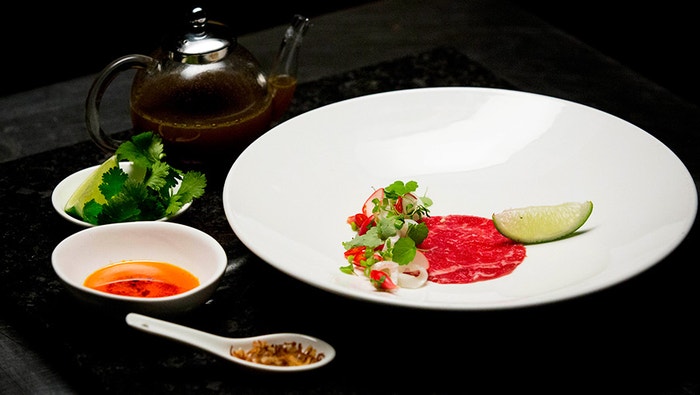 Steps
Preheat oven to 180C. Turn on pressure cooker to browning setting.
For the Pho, spread beef bones onto a large roasting tray and roast in the oven until browned, about 10-12 minutes. Remove from oven and place into the pressure cooker.
Meanwhile, place star anise, cloves, fennel seeds, coriander seeds, black peppercorns and cassia into a dry small frypan and toast until fragrant.
Place beef stock, 2 cups of water and toasted aromatics into the pressure cooker and bring to a simmer.
Meanwhile, lay the garlic, onions, ginger and shallot onto a large metal baking tray and use a blow torch to char the vegetables. Chop the charred vegetables into smaller pieces and add to pressure cooker. Add fish sauce and sugar, season with salt and pepper and bring to the boil. Place pressure cooker lid on, turn onto high and cook for 30 minutes. Once ready, release pressure and strain liquid through a fine sieve lined with muslin cloth into a clean saucepan. Set aside until needed.
For the Pickled Radish, combine vinegar, peppercorns, sugar, salt, garlic and 2 tablespoons of boiling water in a small bowl and stir until sugar and salt have dissolved. Add radish slices and set aside to pickle.
For the Chilli Oil, heat oil in a small saucepan over low heat. Add garlic and shallot and cook until translucent. Remove from heat, add remaining ingredients and adjust seasoning with a little more salt or shrimp paste then strain oil through a fine sieve lined with muslin cloth into a clean jug and set aside.
For the Rice Noodles, place rice flour, tapioca flour and salt into a bowl with 1 and ½ cups water and whisk well to combine. Set aside to rest for 20 minutes.
For the Fried Shallots, place oil into a small saucepan over medium heat and heat to 180C.
Meanwhile, place sliced shallots into a bowl with the flour and salt and toss to coat evenly. Once oil is at temperature, add shallots and fry for 5 minutes. Remove from oil and drain well on paper towel, keeping oil on the heat. Add drained shallots back into the oil and fry until golden brown, about 30 seconds. Remove from heat and set aside on paper towel.
For the Carpaccio, first make the cure mix by placing sugar, salt, lemon grass, pepper and lime zest into a mortar and pestle and grind to a fine paste.
Place a sheet of baking paper onto a chopping board. Lay slices of eye fillet out onto the baking paper then cover with a second sheet of baking paper. Use the back of a spoon to tap lightly until slices are paper thin and still round in shape. Transfer beef slices to a plate and cover with the cure mix. Cover with cling film and set aside in the fridge until required.
To finish the Rice Noodles, half fill a medium sized wok with water and place onto medium heat. Sit a medium sized bamboo steamer in the wok and allow to fill with
Meanwhile, lightly spray an 8cm by 18cm loaf tin with canola spray. Stir reserved noodle mixture to re-combine and pour a very thin layer to cover the base of the tin. Place loaf tin into the bamboo steamer and steam until noodle mixture is cooked, about 5-7 minutes. Remove tin from steamer and lightly spray the surface of the noodle layer with canola spray. Gently remove layer of noodle from the loaf tin and place onto a chopping board to cool. Repeat with remaining noodle mixture. Once all noodle mixture is cooked, cut noodle layers into noodles of desired width and set aide.
To plate, rinse cured Carpaccio under running water to remove salt mix. Lay a piece of the Carpaccio eye fillet into the middle of the serving bowl. Arrange some Rice Stick Noodles in a curled pattern along one side of the beef. Add some pieces of Pickled Radish, sliced spring onion, sliced chilli in and around the curled noodles and finish with some micro coriander and mint. Add a wedge of lime to the other side of the Carpaccio. Place saucepan of Pho onto medium heat and bring to just under the boil. Transfer hot Pho to a jug.
To serve, pour Pho into the bowl.