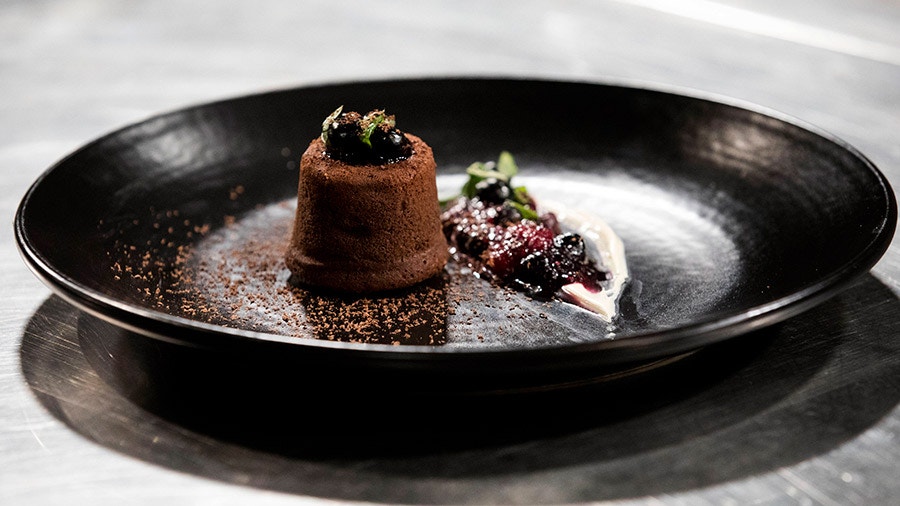 Steps
Preheat oven to 220C. Pre-chill ice cream machine. Prepare an ice bath in a large bowl.
For the Vanilla Bean Ice Cream, place the cream, milk and vanilla seeds into a small saucepan and stir over low heat until just below boiling point. Remove from the heat and set aside.
Place the egg yolks and sugar into a bowl and whisk together until pale. While whisking, slowly pour the warm cream and milk mixture into the eggs and sugar. Transfer to a clean saucepan and cook over low heat, stirring with a silicon spatula, until mixture thickens and reaches 82C. Remove from heat and strain into a medium bowl and place over ice bath to cool completely.
Transfer mixture to the pre-chilled ice cream machine and churn until set. Once set, transfer ice cream into freezer.
For the Berry Coulis, combine all ingredients in a medium saucepan and cook over a low heat, stirring occasionally, until the mixture cooks down to a loose jam-like consistency, about 6-7 minutes. Remove from the heat and set aside.
For the Chocolate Lava Cake, half fill a medium saucepan with water, place over medium heat and to bring to a simmer. Grease 6 metal 100ml capacity fondant moulds with butter and set aside on a baking tray.
Place the roughly chopped butter and chocolate into a medium sized heatproof bowl. Set the bowl over the saucepan of simmering water and stir until melted and smooth then remove from the heat.
Place the eggs and sugar into a stand mixer fitted with a whisk attachment and whisk until pale. Stir the egg and sugar mixture into the chocolate mixture until combined. Add flour and mix until smooth.
Divide mixture between the dariole moulds. Place in the oven to bake until just set on the outside and still runny in the centre, about 6-7 minutes. Remove from the oven and set aside for 1-2 minutes to cool slightly.
To serve, gently unmould a Chocolate Lava Cake onto one side of each serving plate. Spoon a line of Berry Coulis next to the Chocolate Lava Cake. Place a quenelle of the Vanilla Bean Ice Cream next to the coulis. Spoon a little more coulis, including some pieces of berry, on top of the cake and around the plate. Grate some chocolate over the top of the cakes. Finish with a scatter of fresh raspberries, blueberries and chopped mint.