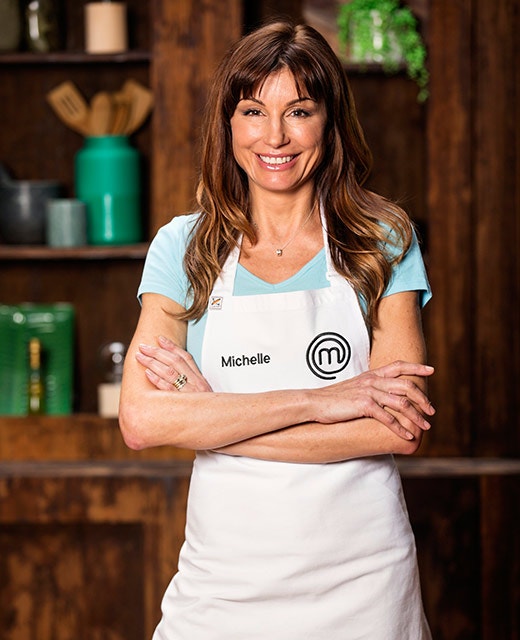 Michelle Walsh
New South Wales Age: 47 Occupation: Writer
After securing the last apron of the competition following three nail-biting cooks during the Judges' Auditions, Michelle definitely feels the pressure to prove herself worthy of the Top 24.
It is a challenge she is excited by and challenges are something at which this model mum excels. A competitive horse rider as a teenager living in Melbourne, she began modelling to fund the sport and was quickly signed at the age of 18 to an agency in Melbourne. Michelle traveled and worked in Milan, Paris, Vienna, Madrid and South Africa, before deciding to settle down in Sydney. It was there she met her now husband Martin and the pair were married just shy of her 30th birthday.
Following a stint as a travel reporter, Michelle welcomed daughters Montana and Mackenzie. With her children fast growing up, Michelle says now is the best time to fulfil her MasterChef Australia dreams. Always with pen in hand, six years ago she started her own blog, combining her passions for family, food and travel.
But while food and cooking has always been a love, Michelle admits she needed a bit of assistance in the early days. A chef friend once saw her throwing cooked penne at a wall to see if it would stick. When Michelle explained she thought that is how you could tell it was cooked, he took her under his wing and taught her the basics, igniting a life-long passion.
Inspired by chefs including Heston Blumenthal and Massimo Bottura, Michelle says she loves marrying art with food and creating a beautiful, fancy dish. It is a concept she hopes to not only plate for the judges but later with a cooking show created for people who like fast and fancy meals.
When she is not cooking and spending time with her family, Michelle is a self-described adrenaline junkie and loves surfing, skateboarding, rock climbing and skiing.