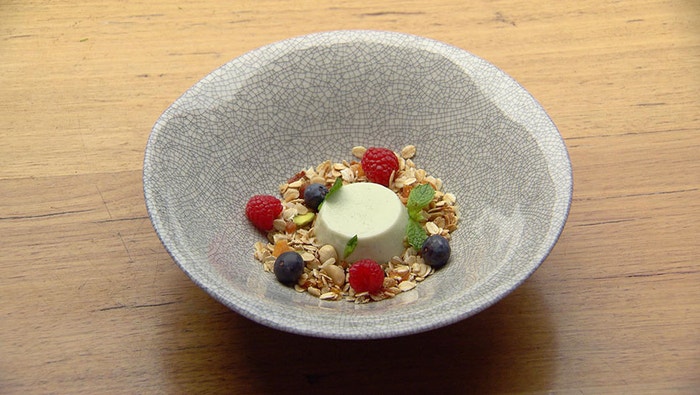 Steps
Preheat oven to 160C.
For the Granola, mix oats, honey, coconut oil, nuts and coconut flakes on a large baking tray and roast in oven, stirring regularly, until evenly golden, about 25 - 30 minutes.
Remove from oven, add fruit and toss to combine. Set aside to cool before serving.
For the Yoghurt and Mint Pannacotta, heat milk, cream, yoghurt, sugar and mint into a small saucepan over medium heat. Bring to just below boiling point then remove from heat. Add gelatine and stir to dissolve.
Strain into a bowl and whisk to chill over an ice bath. Pour into 6 dariole moulds and place in fridge, to set, for about 30 minutes.
To serve, unmould a pannacotta into the centre of each plate. Spoon granola around the pannacotta. Arrange berries around the granola and garnish with mint leaves.