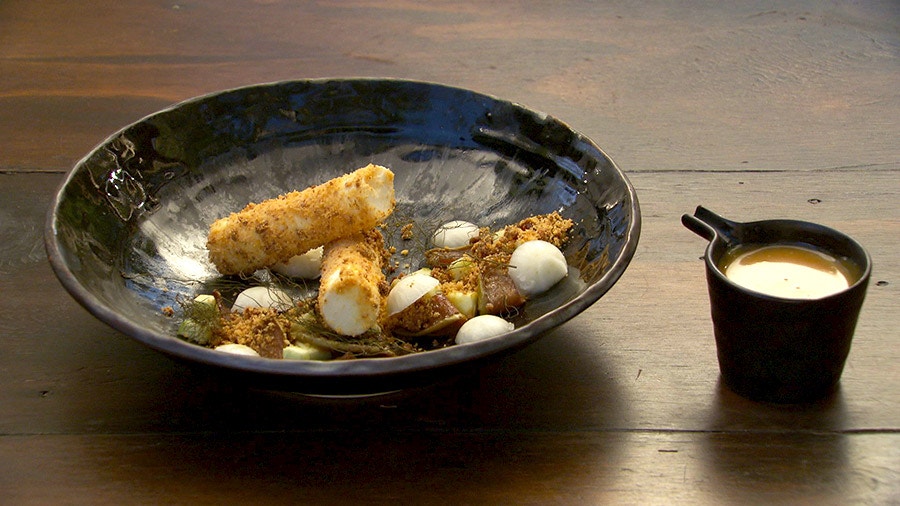 Ingredients
Frozen Lime and Mint Hemispheres
White Chocolate Biscuit Crumb
Steps
Preheat oven to 150°C.
For the Frozen Mint and Lime Hemispheres, place all ingredients, along with 2 tablespoons of water into a saucepan and cook over medium heat, stirring, until sugar dissolves. Transfer the mixture to a medium metal bowl and place over an ice bath to cool.
Meanwhile, place a sheet of 24 x 2cm diameter hemisphere moulds on to a flat baking tray.
Once cool, pour the mixtures into the moulds and transfer to the freezer until frozen, about 2 hours.
For the Frozen Cheesecake Logs, first prepare the log moulds. Line 2 cylinders, measuring 2cm wide and 30cm long, with a rolled sheet of acetate each, ensuring the acetate is longer than the mould and hangs out each end. Tape the ends of the acetate to hold its shape. Wrap one end of each cylinder with a double layer of cling film, ensuring cling film is taunt over the opening and secure in place with an elastic band. Repeat with second lined cylinder mould. Set moulds aside until needed
For the cheesecake filling, place milk in a small saucepan over medium heat and bring to a simmer. When simmering, remove from heat. Remove the softened gelatine form the water and squeeze to remove excess liquid. Add the drained gelatine to the warm milk and whisk until gelatine has melted. Set aside until needed.
Combine cream cheese and icing sugar in the bowl of an electric mixer fitted with the whisk attachment and whisk until creamy and smooth. Add the milk and gelatine mixture and continue to whisk on high speed until combined and cooled slightly.
Using a spatula, fold in the crème fraiche and sour cream, ensuring the mixture is well combined. Transfer the mixture to a piping bag.
Pipe cheesecake mixture into the open end of the cylinder moulds, filling to the top of the cylinder. Cover the open end of acetate with a double layer of cling film and secure with an elastic band. Place the filled moulds on to a flat baking tray and place in the freezer to set, about 1 ½ hours.
For the White Chocolate Biscuit Crumb, spread white chocolate over a baking tray lined with baking paper. Place chocolate into the pre-heated oven and bake until golden, about 15 minutes. Stir the chocolate half way through the baking process to ensure an even colour. Once chocolate is evenly caramelised, remove from oven and cool completely.
Once chocolate is cool, transfer to a food processor and process to a fine crumb. Transfer to a wide, shallow bowl, add the crushed biscuits and mix well to combine. Set aside until needed.
For the Caramelised Apple, place all ingredients into a medium frypan, allow butter to melt and cook, stirring occasionally, until apple caramelises. Add 1/3 cup water to deglaze the pan, stirring to scrape the bottom of the pan, then cook until liquid evaporates, about a further 1-2 minutes. Remove from heat then set aside to cool until needed.
Increase oven temperature to 160°C.
For the Pickled Apples, combine all ingredients together in a small bowl and set aside in the fridge for 30 minutes to pickle. Once pickled, drain and set aside, covered, until ready to serve.
For the Dehydrated Fennel Fronds, spread fennel fronds onto a flat baking tray lined with baking paper and bake until crisp and dry, about 15-20 minutes. Once dehydrated, remove the fennel fronds from the oven and set aside until needed.
For the Caramel Sauce, place caster sugar, along with 3 tablespoons of water, into a small saucepan and cook over low heat, without stirring, until the sugar melts and an amber caramel forms. Remove from heat, add the remaining ingredients, along with ½ cup warm water, and whisk until smooth. Strain the caramel through a fine sieve and transfer to a jug. Set aside, keeping warm, until needed.
To serve, remove cheesecake logs from freezer and unmould by pulling the acetate out of the cylinder and carefully unwrapping. Cut each log into four even portions, then roll each portion in the White Chocolate Biscuit Crumb. Place each portion on to a flat baking tray lined with baking paper and and set aside until needed.
Spread the remaining crumb in a line along on one side of each plate. Place a few spoonsful of the Caramelised Apple slices along the crumb on each plate, then scatter Pickled Apple cubes over Caramelised Apples and crumb. Arrange 6 Dehydrated Fennel Fronds on and around the apples on each plate. Arrange 6 Lime and Mint Hemispheres either side of the crumb on each plate. Place 2 Frozen Cheesecake Logs on each plate, crossed over at an angle, over the line of the crumbs and apples. Pour equal amounts of warm Caramel Sauce around each plate and serve.