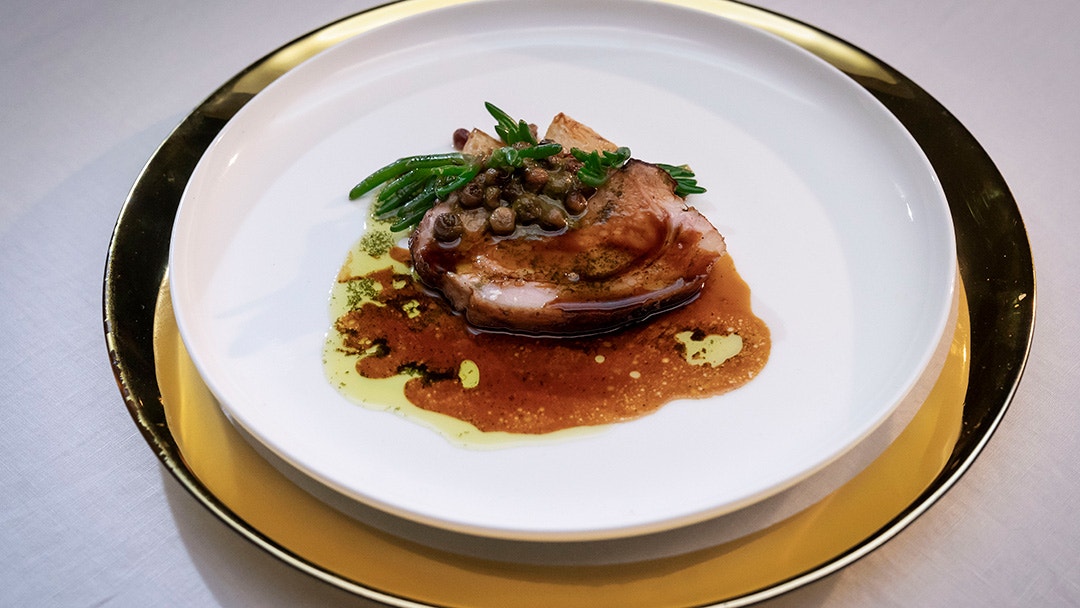 Steps
Prepare a hibachi grill or place a grill pan over high heat. Preheat oven to 180C.
For the Marsala Jus, place onions onto grill, flesh side down and cook until charred all over.
Place into a pressure cooker with remaining ingredients and cover with water. Cook on high pressure for 45 minutes. Strain through a cloth lined fine sieve into a frypan and simmer until reduced until thick and glossy.
For the Sage Emulsion, place wine into a saucepan and simmer until reduced to 75ml. Remove from the heat.
Place butter into a saucepan with sage and garlic. Allow butter to melt then remove from the heat. Remove garlic then transfer butter and sage to a blender and process until smooth.
Place reduced wine into a high speed blender, add xanthan gum and process until incorporated.
With blender running on low-medium speed, slowly pour in butter and emulsify. Set aside and warm gently to serve.
For the Wessex Saddleback, remove pork loins from the bone. Remove rind, leaving 2cm thick layer of fat covering the loin.
Salt the fat generously and place into a cold ovenproof frypan over a high heat. Cook until golden and the fat has rendered. Sear all sides of the pork until golden and caramelised.
Transfer to the oven and cook for 40-45 minutes or until the internal temperature reaches 47C. Remove from the oven and allow to rest for 15-20 minutes before slicing to serve.
For the Butter Roasted Turnips, melt butter in a medium shallow fry pan. Add turnips, cut side down and season with salt. Cook until tender, about 15-20 minutes. Remove from the heat and set aside.
For the Native Thyme Oil, process ingredients in a blender until smooth. Pass through a muslin lined sieve. Set aside.
For the Muntries, melt butter in a shallow frypan. Add muntries and sauté for 1-2 minutes. Remove from the heat and season to taste with lemon juice and salt.
To serve, arrange slices of pork on each serving plate. Add Butter Roasted Turnips, karkalla and muntries and serve with the 3 sauces on the side.