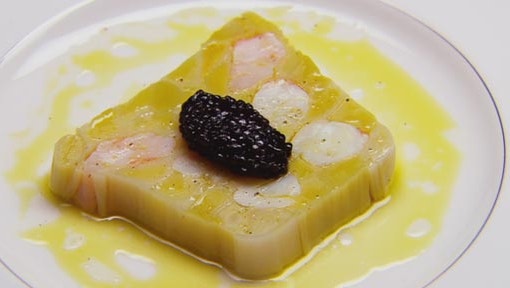 Steps
Trim the leeks of all root. Split lengthways along the green end and tie securely, by the white ends, in bundles with twine.
In a large saucepan of boiling water, season with salt and boil the leeks, fully submerged until completely cooked. Once cooked, drain the leeks through a colander and allow to cool.
Meanwhile poach the crayfish tails. Bring a pot of water to the boil, seasoned to the state of seawater. Place tails in water at a boil, turn off heat and cook for approximately 10-12 minutes with a lid on. Check the tails are cooked through without being over cooked. Remove from water and cover with ice.
Remove flesh from the shell carefully and cut into even, thumb sized chunks.
Line the terrine mould with cling film, ensuring it is neatly lining the inside of the mould, with excess overhang to wrap the terrine. Layer leeks and lobster into the mould ensuring that they are tightly packed and free of excess moisture. Season each layer with salt and pepper and ensure that the lobster is encased with leeks. Cover tightly with the overhang of cling film and tuck in excess pieces.
Place a replica terrine mould upside down on a tray. Turn the filled terrine upside down and place over the base mould. Place another tray on top and press tightly with a brick. Prick small holes on the clingfilm to and allow water to drain away from the terrine and reserve for the vinaigrette.
Press the terrine for 90 minutes and remove from the mould. Slice a neat slice and place on center of the plate, removing the cling film.
For the vinaigrette, combine wet ingredients and mix well. Add the tarragon and smashed garlic clove, season and mix.
To garnish, season the terrine slice with salt and pepper. Liberally dress with vinaigrette and spoon a neat quenelle of caviar on top.