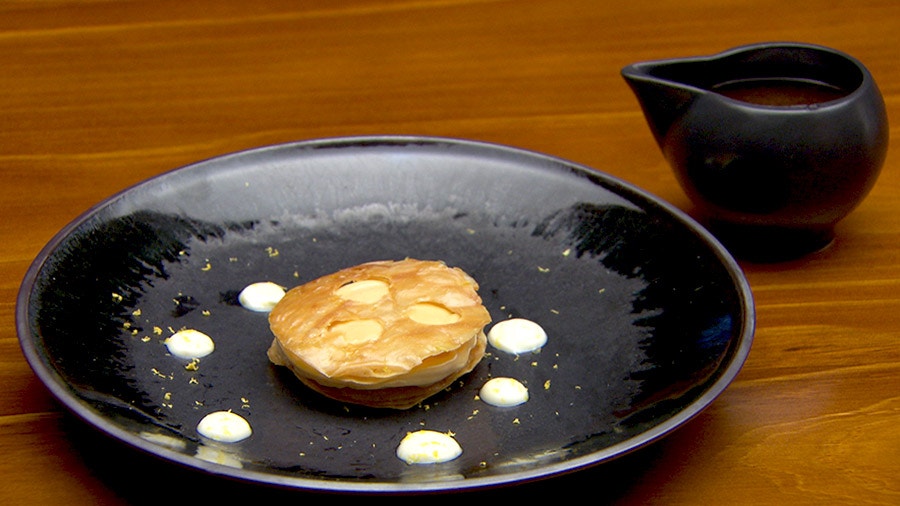 Steps
Preheat oven to 220°C.
For the Tahini Ice Cream, place milk and tahini into a small saucepan and bring to a simmer over a low heat. Meanwhile, whisk egg yolks and sugar together in the bowl of an electric mixer fitted with a whisk attachment until pale in colour.
When milk mixtures has reached a simmer, remove from heat. With motor running, gradually pour the milk mixture into the egg mixture, whisking continually. Once incorporated, pour the mixture back into the saucepan and cook over low heat, stirring constantly, until the mixture coats the back of spatula. Once thickened, transfer the anglaise to a medium bowl and set over an ice bath to cool.
When cold, pour the anglaise into an ice cream churn and churn, according to manufacturer's instructions, until frozen. Once churned, set the ice cream aside in the freezer to set until needed.
For the Brik Pastry, line a large baking sheet with baking paper. Place flour and 1 teaspoon olive oil into a medium bowl and whisk in 110ml water to form a smooth, thin mixture with the consistency of thickened cream. Add a little more water if necessary to achieve the right consistency. Chill the mixture in the freezer for 10 minutes.
Meanwhile, set up a crepe pan over a medium saucepan of simmering water. Once the pastry mixture has chilled, use a pastry brush to paint 2-3 thin layers of approximately 20cm diameter of the mixture on the base of the pan, and cook over low heat until set.
Once the layer is set, transfer to lined baking sheet and brush lightly with olive oil, repeat this step 4-5 times until you have 8 layers of brik pastry.
Using a 7cm round cutter, cut 7cm circles from each layer of brik pastry. Then use a 2cm round cutter to cut 3 rounds from each 7cm circle. Bake brik discs in the pre-heated oven for 5 minutes to dry out.
Meanwhile, cover the bottom of a large frypan with vegetable oil and heat over a medium heat. Remove the discs of brik pastry from the oven and fry in the hot oil until golden, about 10-15 seconds on each side. Drain discs on a paper towel and set aside until needed.
For the Greek Yoghurt Coulis, combine ingredients in a small bowl and whisk together. Transfer to a squeeze bottle and set aside in the fridge until needed.
For the Date Butterscotch Sauce, place date syrup in a medium saucepan and reduce slightly over low heat, about 4 minutes. Add 1 tablespoon water and the butter and whisk until butter has melted and sauce is combined. Pour into a jug and set aside in the fridge until needed.
To assemble, place 2 rounds of brik pastry on each serving plate. Dot plates with 7 small mounds of Yoghurt Coulis. Add a scoop of Tahini Ice Cream and serve with Date Butterscotch Sauce on the side.