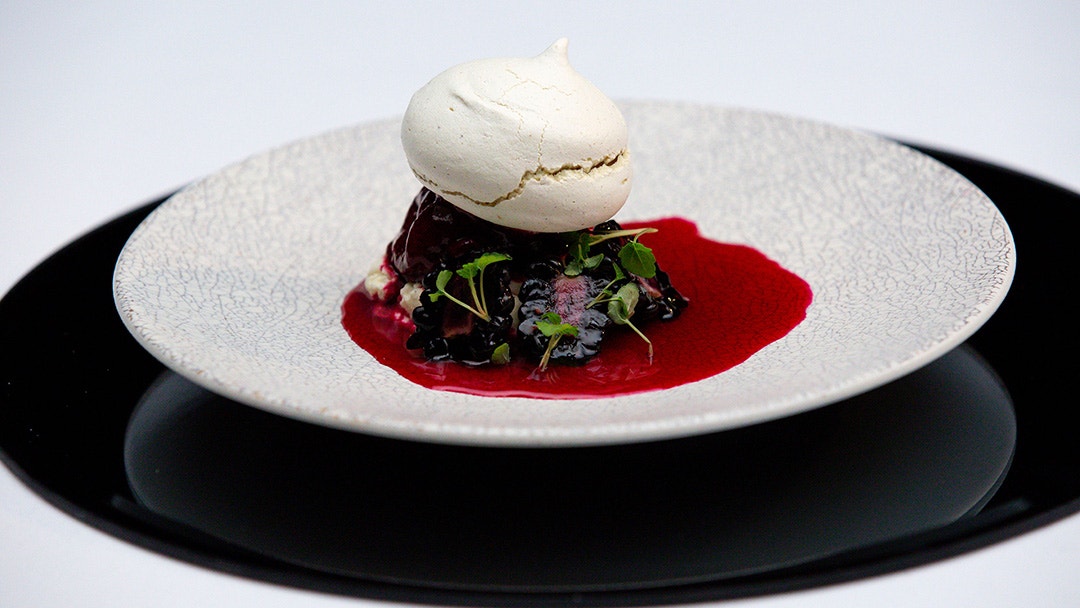 Ingredients
Beetroot and Blackberry Sorbet
Steps
Preheat oven to 100C. Pre-chill the ice cream machine.
For the Szechuan Pavlova, line a baking tray with baking paper.
Place the egg whites into the bowl of a stand mixer fitted with a whisk attachment. Whisk on high speed until soft peaks form.
Gradually add the caster sugar and whisk until meringue is glossy and firm peaks have formed, about 10 minutes.
Add the remaining ingredients and whisk in the remaining ingredients for 2 minutes.
Transfer the mixture into a piping bag and pipe 12 rounds of mixture onto the tray.
Bake in the oven for 1 hour. Turn off oven and leave door slightly ajar until meringues are cool.
For the Beetroot and Blackberry Sorbet, place the sugar, glucose and 250ml water into a large saucepan over medium heat. Stir to dissolve the sugar then simmer until syrup reaches 100C. Remove from the heat and set the sugar syrup aside.
Place the beetroot juice, blackberries, citric acid and 100ml of the sugar syrup into a blender and blend until smooth.
Transfer the mixture into the ice cream machine and churn according to manufacturer's instructions. Transfer the ice cream to the freezer until required.
For the Beetroot Syrup, place the reserved beetroot pulp and sugar syrup into a medium saucepan. Bring to the boil then reduce the heat and simmer for 15 minutes until thickened.
Add the lemon juice and citric acid, to taste.
Strain the mixture through a fine sieve and set aside.
For the Beetroot Slices, place the beetroot slices and the sugar syrup into a saucepan and bring to a simmer. Gently cook until the beetroot slices are tender, about 15 minutes.
Remove from the heat and strain through a fine sieve. Set aside.
For the Lemon Cream, place the ingredients into a stand mixer fitted with whisk attachment. Whisk to stiff peaks then transfer to a piping bag. Set aside in the fridge until ready to serve.
To serve, place a Beetroot Slice into the base of each serving bowl. Pipe on some Lemon Cream on top. Top with a scoop of Beetroot and Blackberry Sorbet then a Szechuan Pavlova. Garnish with sliced fresh blackberry and lemon balms leaves. Pour the Beetroot Syrup around the plate.