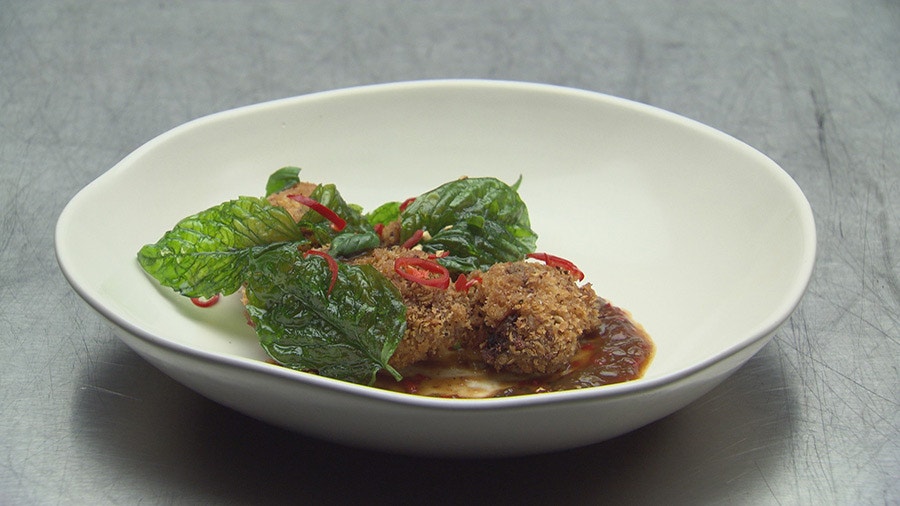 Ingredients
Five Spice Mushroom Stuffing
Steps
Preheat deep fryer of oil to 170°C.
For the Tamarind Sauce, combine all ingredients in a saucepan and allow to reduce over a medium heat, stirring frequently, until thick and caramelised, about 12 – 15 minutes.
For the Five Spice Mushroom Stuffing, prepare the five spice mix by combining Szechuan pepper, fennel seeds, cinnamon, star anise and cloves in a small bowl. Set aside until needed.
Place a medium frypan on medium-high heat, add oil, shallots, garlic and chilli and sauté until caramelised, about 6-7 minutes. Add mushrooms and sauté until cooked through, about 4-5 minutes.
Add a teaspoon of prepared five spice mix and oyster sauce. Mix thoroughly and cook until fragrant, about 1 minute. Remove from heat. Add the basil and water chestnuts and stir to combine well. Season with salt to taste and set aside to cool until needed.
For the Chicken Wings, first debone the chicken wings, by cutting each wing at each joint and reserve the centre section (outer pieces may be reserved for another use). Use a sharp small knife to cut along the side, reaching the bone. Carefully cut flesh away from bone including the cartilage at each end, leaving the wing flesh intact. Discard the bones and cartilage.
Stuff each deboned chicken wing with 1 teaspoon of Five Spice Mushroom Stuffing and set aside until needed.
Combine Szechuan peppercorns and panko crumbs in a shallow bowl and set aside. Place flour in a wide shallow bowl and eggs in a separate shallow bowl.
Dip each filled chicken wings in flour and shake off the excess. Dip into the beaten eggs and then into panko mixture, pressing the crumb on gently but firmly. Dip in the egg again, then the panko again and set aside on a plate until needed.
Deep fry the coated chicken wings, in batches, until deep golden in colour, about 5 – 6 minutes. Remove from oil, drain on kitchen paper and season with salt. Set aside until ready to serve.
For the Fried Basil, dry basil leaves thoroughly and deep fry until crisp, about 30 – 40 seconds. Remove from oil and drain on kitchen paper until ready to serve.
To serve, place a generous amount of the Tamarind Sauce on the bottom of a large serving platter.
Stack the Chicken Wings on top of the sauce and garnish with Fried Basil Leaves and fresh chilli slices.