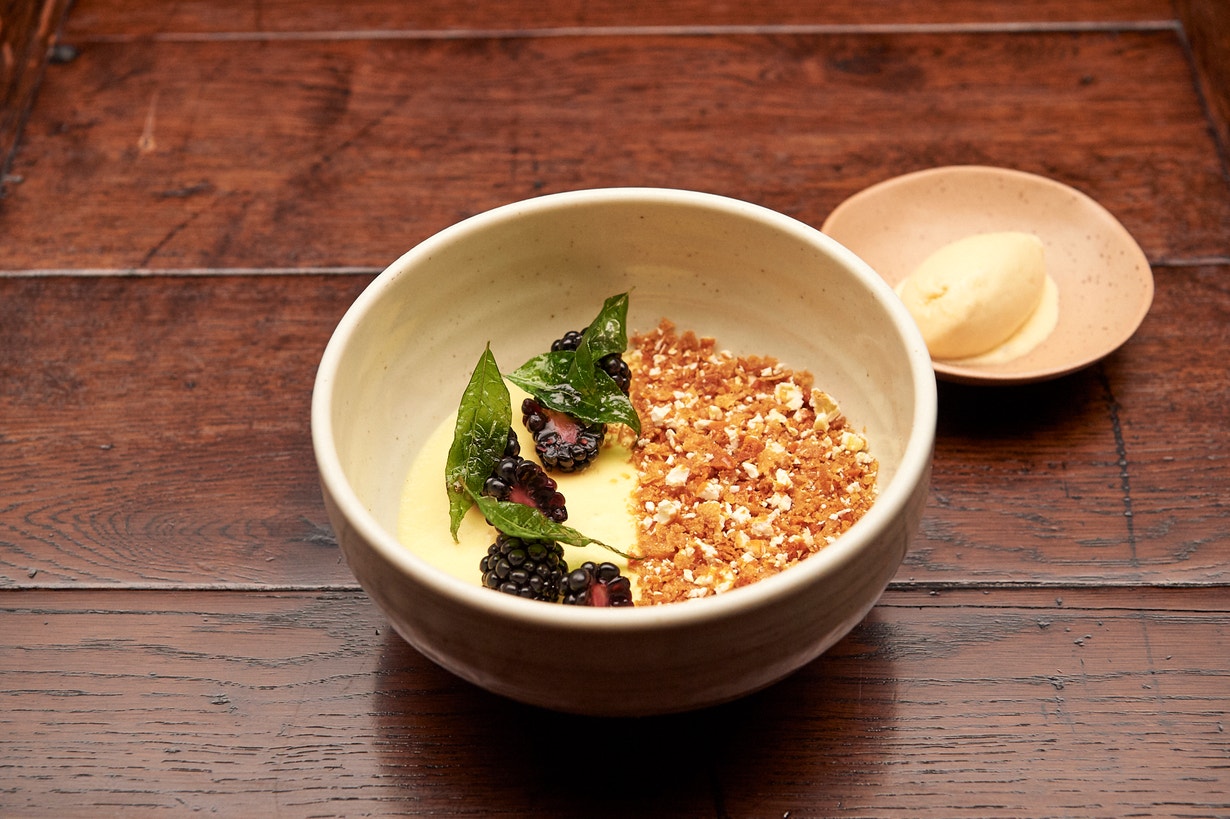 Steps
Pre-chill an ice cream machine. Prepare an ice bath in a medium bowl. Preheat oven to 180C.
For the Cornflake Ice Cream, place milk, cream and cornflakes in medium saucepan over low heat. Heat milk to 75C then remove from the heat.
Place the sugar and egg yolks into the bowl of a stand mixer fitted with a whisk attachment and whisk until pale and fluffy.
While whisking, pour in half of the hot cornflake mixture into the egg mixture. Return the egg mixture to the saucepan and place over low heat. Stir with a silicon spatula continuously until mixture thickens and reaches 84C.
Remove from the heat and strain through a fine sieve into a medium bowl. Season with salt, to taste then place over ice bath to cool.
Place mixture into an ice cream churner and churn according to manufacturer's instructions. Transfer to the freezer until required.
For the Sweet Corn Panna Cotta, place the gelatine into a small bowl, cover with water and set aside to soften. Drain and squeeze to remove excess water.
Cut the kernels from the cobs and place into a small saucepan with the milk and cream. Place over low heat and simmer gently until corn is tender.
Remove from the heat. Add the sugar and salt and stir to dissolve.
Place into a blender and process until smooth. Add the softened gelatine and stir until dissolved. Pass through a muslin lined sieve and strain a second time to remove any lumps.
Pour into the base of four small serving bowls and place in freezer for 10 minutes to chill. Transfer to fridge to set.
For the Cornflake Crumb, line a baking tray with baking paper and set aside.
Combine ingredients in a small bowl and mix until combined. Spread over prepared tray and bake until golden and toasted, about 10-15 minutes.
Remove from the oven and set aside to cool. Crumble to a coarse crumb.
For the Popcorn Brittle, line a baking tray with baking paper and set aside.
Place sugar into a deep medium frypan and place over medium heat. Swirl the pan occasionally until sugar has melted to a golden brown caramel. Add the butter and stir until combined.
Remove from the heat and add the bicarb, whisking until mixed in. Quickly add the popcorn and salt and stir through the mixture.
Pour the mixture onto the prepared tray. Set aside to cool. Chop into small pieces to serve.
For the Crispy Curry Leaves, place oil into a small saucepan and heat to 180C.
Drop the curry leaves into oil and cook until there are no bubbles around the edges, about 15 seconds.
Remove from the oil and set aside on paper towel. Sprinkle with salt.
To serve, mix the Cornflake Crumb and Popcorn Brittle together in a bowl and sprinkle over one half of each Sweet Corn Panna Cotta. Arrange the fresh berries and Fried Curry Leaves over the panna cotta and top with a quenelle of Cornflake Ice Cream.