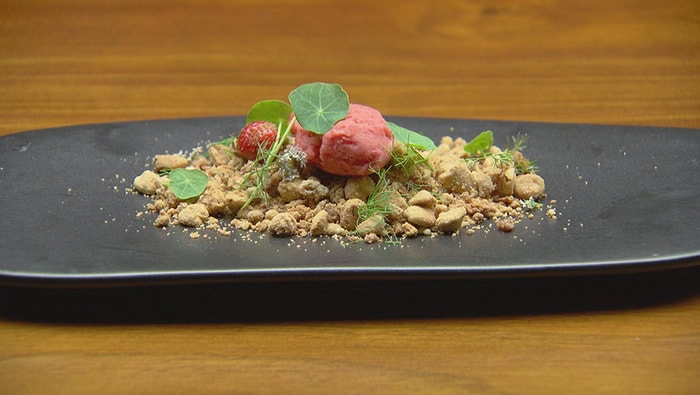 Steps
Preheat oven to 190C and pre-chill the ice-cream machine.
For the Strawberry Sorbet, place strawberries in a food processor and blend until smooth. Pass the strawberry puree through a fine mesh sieve into a medium bowl.
Place half the strawberry puree in a small saucepan over low heat and warm. Add gelatine and whisk until dissolved. Transfer mixture to the canister of a stick blender. Add remaining puree, glucose, citric acid, and salt and blend until smooth.
Allow to cool then place into the chilled ice-cream machine and churn according to manufacturer's instructions. Place in freezer until serving.
For the Strawberry, Pepper and Balsamic Jelly, place the strawberries, balsamic vinegar, pepper, caster sugar and ½ cup water into a medium saucepan. Set over medium heat and cook until sugar has dissolved, about 5 minutes. Strain mix through a fine mesh sieve into a small bowl.
Add bloomed gelatine and stir until dissolved. Pour into a 12 cm x 7cm tray and place in fridge until set. Once set, cut into 0.5cm cubes and set aside, in fridge, until serving.
For the Roasted White Chocolate, Pepper and Balsamic Crumb, combine the butter, flour, sugar, pepper and balsamic vinegar in a medium bowl and mix with a fork to form a crumb. Spread crumb on a tray lined with baking paper and place in oven. Bake, mixing occasionally with a fork, until evenly golden brown, about 15 minutes. Remove from oven.
Spread out white chocolate chips on another paper lined tray and bake in the oven for 10 minutes, mixing occasionally, until caramelised. Remove from oven and combine with crumb mixture. Set aside until serving.
For the Macerated Strawberries, combine all ingredients in a small bowl and mix gently. Set aside, in fridge, until serving.
For the White Chocolate Mousse, place chocolate into a medium bowl and set aside.
Place sugar and egg yolks into the bowl of an electric mixer fitted with a whisk attachment and whisk for 2 minutes.
In a saucepan, bring the milk to a simmer, then slowly pour the milk over the egg mixture while whisking. Return combined egg and milk mixture to the saucepan and cook over low heat, stirring, until mixture thickens.
Remove from the heat, add bloomed gelatine to the warm egg and milk mixture and stir to dissolve. Pour the hot mixture over the chocolate, stirring until the chocolate has melted. Set aside to cool.
Meanwhile, whip cream to soft peaks. Gradually fold the cooled chocolate mixture through the cream. Transfer mousse to a piping bag and set aside, in fridge, until serving.
To serve, pipe three rounds of White Chocolate Mousse onto each serving plate. Arrange Strawberry, Pepper and Balsamic Jelly cubes and Macerated Strawberries around the mousse. Cover with the Roasted White Chocolate Crumb and place a spoonful of Strawberry Sorbet on the crumb. Garnish with nasturtium leaves, fennel fronds and coriander flowers.