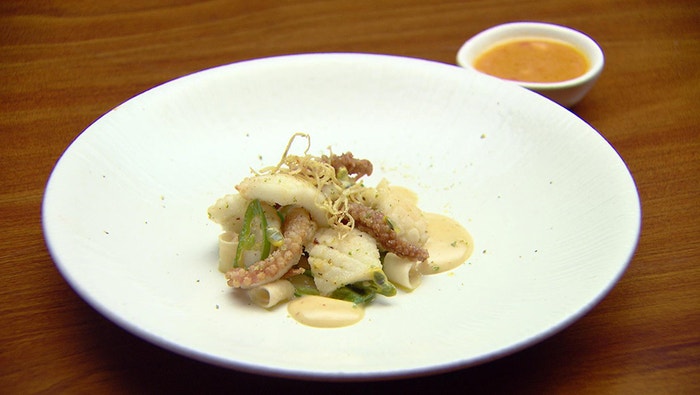 Steps
Preheat oven to 180C.
For the Chilli Salt, place the chilli slices on a wire rack over a baking tray. Place in the oven until dried but not burned, about 12-15 minutes. Remove from oven and transfer chilli to a spice grinder. Add salt and process until fine then set aside until required.
For the Pickled Ginger, place sugar, vinegar and 60ml water into a small saucepan and place over a medium heat until the sugar has dissolved. Add ginger and remove from the heat. Set aside until required.
For the Vinaigrette, place anchovy, chilli and ginger into a mortar and pestle and grind until a paste forms. Place passionfruit pulp, Marsala, vinegar and reserved anchovy oil in a small bowl. Add the anchovy paste and stir to combine. Season to taste and set aside until required.
For the Anchovy Aioli, place anchovies, pickling liquid and Vinaigrette in the canister of a stick blender. Add the egg, being careful not to break the yolk. Carefully pour the grapeseed oil into the canister. Place the head of a stick blender over the egg yolk and blitz for 2-3 seconds before slowly pulling the blender up through the oil. Gently move stick blender up and down through oil until a thick pale mayonnaise forms. Season to taste, transfer to a squeeze bottle and set aside until serving.
For the Confit Chilli Salad, place half the chilli slices, anchovy oil and olive oil in a small saucepan and set over a very low heat just until oil is warm. Do not let chilli begin to fry. Remove from heat and allow the chilli to sit in the oil for 5 more minutes. Strain and place chillis slices in a small bowl. Add remaining fresh chilli slices and Vinaigrette stir to combine. Set aside until serving.
For the Fried Ginger, place oil into a small frying pan over medium-high heat. Add ginger and fry until browning and crisping at the edges. Remove ginger and set aside on paper towel until serving.
For the Chilli Salt and Pepper Squid, heat oil in a medium saucepan to 200C.
Combine flour, chilli salt and pepper in a small bowl.
Slice down the length of each squid tube, flatten and score the flesh. Cut each tube into 8 pieces and dust in the flour mix, along with the tentacles.
Fry the squid and tentacles, in batches, in the hot oil, until just cooked through and lightly golden. Remove from oil and set aside to drain on paper towel until serving.
To serve, squeeze anchovy aioli onto serving plates in. Place Confit Chilli Salad and rolled slices of Pickled Ginger in the middle of the serving plates. Arrange Chilli Salt and Pepper Squid on top and top squid with Fried Ginger. Garnish with small amounts of fresh passionfruit pulp. Serve with Vinaigrette on the side.