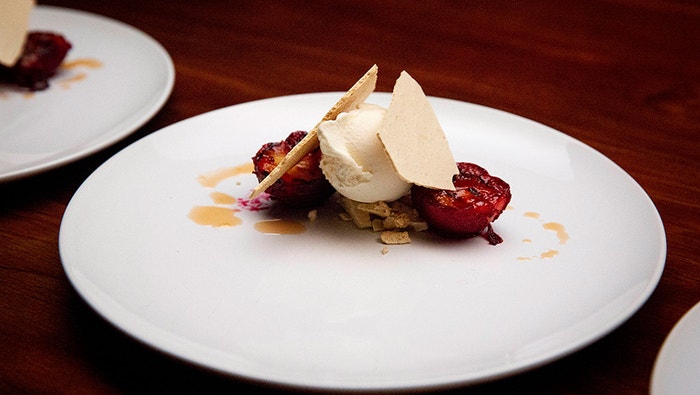 Steps
Prechill ice cream machine and preheat oven to 110C.
For the Smoked Vanilla Ice Cream, place cream, milk and vanilla paste in a saucepan and heat until mixture comes to a simmer. Remove from heat.
In a separate bowl, whisk egg and sugar until combined. While whisking continuously, slowly add hot cream mixture until combined. Return mixture to the saucepan and heat over a low heat, stirring until mixture thickens and reaches 82C. Remove from heat.
Pour mixture through a fine sieve into a metal bowl set over an ice bath. Cover bowl with cling film. Using a smoking gun, ignite woodchips, place nozzle of gun under cling film and allow bowl to fill with smoke. Remove nozzle, reseal cling film tightly and smoke for 5 minutes. Uncover and whisk mixture until cool.
Transfer mixture to ice cream churner and churn according to manufacturer's instructions. Place ice cream into the freezer to set until serving.
For the Rosemary Meringue, place sugar and rosemary leaves into a food processor and process on high speed until combined.
Place egg white into a medium bowl and using an electric hand mixer, whisk until soft peaks form. Gradually add rosemary sugar, one teaspoon at a time, mixing well between additions. Once all of the sugar has been added, increase speed to high and whisk until meringue is thick and glossy.
Using an offset spatula, spread meringue thinly over a silicone mat lined tray to a thickness of 1-2mm. Place in oven to bake for 35 minutes then increase oven temperature to 120C and cook until meringue is golden, about 5 minutes. Remove from oven and allow cool. Break into shards and set aside, until serving.
For the Charred Plums, place vanilla liqueur in a saucepan and bring to a simmer over medium heat. Simmer until reduced by 3/4s and slightly thickened.
Meanwhile bring a medium saucepan of water to a boil over high heat. Add plums until skin starting to lift, about 20 seconds. Remove from water then peel and discard skins. Cut plums in half then place into a vacuum bag. Add reduced vanilla liqueur then vacuum seal bag. Place bag in simmering water to poach for 3 minutes.
Meanwhile, heat a griddle pan over medium high heat. Remove plums from bag, reserving syrup, and place plums into pan, cut side down and cook until slightly charred, about 1-2 minutes. Remove from heat and set aside until serving.
To serve, crumble some of the Rosemary Meringue onto each serving plate then top with a scoop of Smoked Vanilla Ice Cream. Add two Charred Plum halves and some Rosemary Meringue shards. Drizzle with vanilla liqueur syrup.