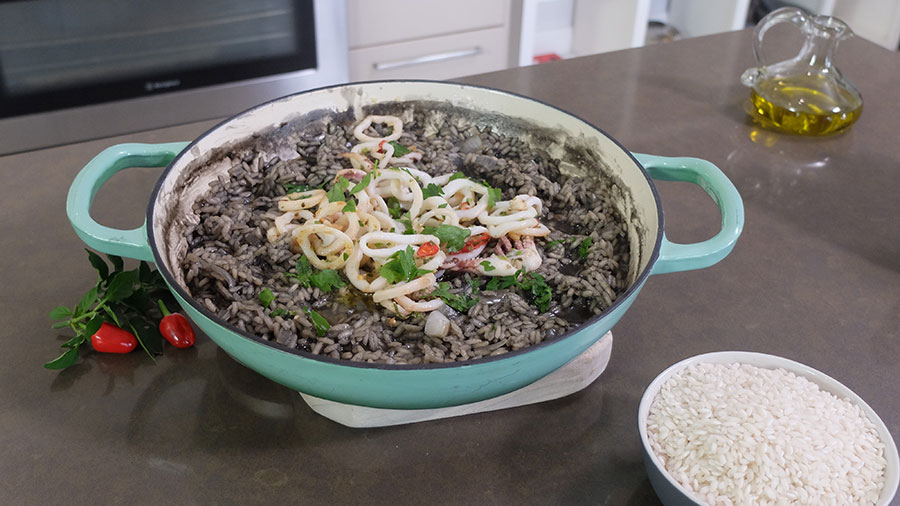 Steps
Bring the stock to the boil and reduce the heat to the lowest flame to keep warm.
Heat 20 g butter and half the olive oil in a sauté pan over medium-high heat. Add the onion and a pinch of salt and cook for 3-4 minutes until the onion begins to soften. Add the rice and cook for 2 minutes until the grains start to look opaque. Pour in the wine and simmer until almost evaporated. Add a ladleful of stock and the squid ink to the pan and simmer, stirring gently from time to time to prevent the rice catching on the bottom of the pan, until the stock has been absorbed. Continue to cook, adding the stock one ladleful at a time, until the rice is just cooked, about 17-18 minutes. Remove from the heat, add one final ladleful of stock and the remaining butter and stir vigorously for 2 minutes. Season to taste, cover and set aside for a few minutes.
Finely chop the stalks of the parsley and roughly chop the leaves, keep separate. Heat the remaining tablespoon of olive oil in a large frying pan over high heat. Add the parsley stalks, chilli and garlic and cook for one minute. Toss in the squid and a pinch of salt and cook for 1-2 minutes just until the squid is tender.
Remove from the heat and immediately tip the squid and aromatics onto the rested risotto. Garnish with parsley leaves and serve directly from the pan.
Notes
For further information on Silvia Colloca go to https://silviascucina.net/