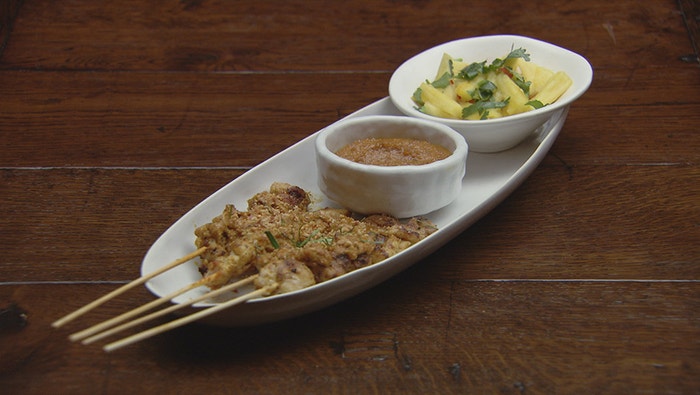 Steps
Place 16 wooden skewers into water to soak.
For the Red Curry Paste, place the chillies, shallots, garlic, coriander stems and roots, ginger, lemongrass, 5 kaffir lime leaves and 1 tablespoon olive oil into the bowl of a food processor and blend to a paste. Set aside.
Heat the remaining 2 tablespoons olive oil in a medium sized saucepan over medium heat. Add the paste, remaining lime leaves, turmeric, cumin, coriander and a pinch of salt. Cook, stirring continuously, until fragrant and lightly caramelised, about 5-7 minutes. Remove from the heat and set aside.
Remove half of the Red Curry Paste and set aside for the Chicken Skewers. Reserve the remaining Red Curry Paste in the saucepan.
For the Satay Sauce, place the oil into a small saucepan and place over a medium heat. Add the peanuts and fry until golden brown and crunchy, about 3-4 minutes.
Remove from the heat and allow to cool. Transfer to the bowl of a food processor and process until coarsely ground.
Return the saucepan of Red Curry Paste to a low medium heat. Add the ground peanuts, coconut milk and coconut sugar and stir until combined. Cook until the sauce has thickened, stirring occasionally. Season with salt, to taste. Remove from the heat and transfer to a serving bowl. Set aside until required.
For the Chicken Skewers, cut the chicken into 2cm cubes. Thread onto soaked bamboo skewers and place into a large shallow dish.
Season with salt and pepper then rub with the reserved Red Curry Paste. Cover and set aside in the fridge for 15-20 minutes.
Heat an extra large grill pan or plate over medium heat. Drizzle the skewers with oil and place into the pan. Cook the skewers, turning regularly, until charred and chicken is cooked through, about 8 -10 minutes. Remove from the pan and set aside, covered loosely with foil to keep warm.
For the Pineapple Salad, cut the pineapple into 1cm cubes and place into a medium bowl.
Place the lime juice, vinegar, chilli and coconut sugar in a small bowl and mix together until combined.
Add the pineapple and mix to combine. Garnish with the coriander leaves. Transfer to a serving dish.
To serve, arrange the Chicken Skewers on a long serving plate and garnish with peanuts and lime leaves. Serve with the Satay Sauce and Pineapple Salad on the side.