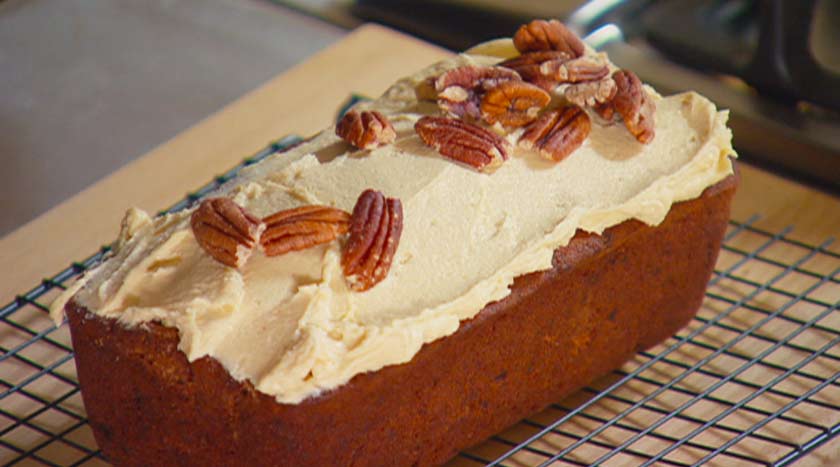 Ingredients
Evil butter roasted banana
Steps
Banana bread
For the banana bread, preheat oven to 180C and grease loaf pan with oil.
Using hand beaters, beat butter and sugar in a bowl until thick and pale. Add eggs and bananas and mix until combined, then add flour, bicarbonate of soda and salt, and mix until just combined.
Pour mixture into loaf pan and bake for 55 minutes or until a skewer inserted comes out clean.
Set banana bread aside in pan for 10 minutes before turning out onto a cooling rack to cool completely. Alternatively, when slightly warm, cover in plastic wrap for a better result the following day, and a slightly sticky surface.
Maple butter icing
Using hand beaters, beat butter and sugar in a bowl until thick and pale, and the sugar has dissolved.
With the beaters on slow speed, add vanilla extract, then 1 tablespoon of maple syrup at a time, allowing syrup to incorporate before adding another tablespoon.
Ice banana bread and garnish with toasted pecans if desired.
Banana bread muffins
Preheat oven to 180˚C.
Pour banana bread mixture into a 6-hole, Texas muffin pan, and cook for 35 minutes or until a skewer inserted comes out clean.
Remove from oven and set aside to cool on a wire rack.
Spiced rum butterscotch
For the spiced rum butterscotch, heat rum and cloves in a small saucepan to just below boiling point. Alternatively, you can use a microwave. Remove from heat and leave to infuse for at least 15 minutes. Remove cloves and discard.
Melt sugar and butter in a saucepan over medium heat until mixture starts to bubble. Pour in cream and half the rum mixture, stirring to combine. Cook gently for about 2 minutes or until thickened slightly. Transfer mixture to a bowl, cover with plastic wrap and set aside to cool.
Evil butter roasted banana
For the roasted banana, toss bananas in lemon juice to coat.
Melt butter with the sugar in a saucepan. When foaming add bananas and cook for about 2 minutes until they are soft and slightly slippery.
To serve
Heat muffins for 30 seconds in the microwave to warm through, unless fresh from the oven.
Stir in remaining rum mixture and lemon juice to taste into the butterscotch, then divide among plates.
Place a muffin on top, followed by a spoonful of roasted bananas. Garnish with walnuts and cream.
Notes
*You will need a 1L loaf pan for this recipe *You can freeze your banana bread, wrapped well in plastic wrap for up to 2 months. It also toasts well.
*You can pimp your banana bread by adding spices, such as such as cinnamon, ginger, allspice or vanilla. You can also add nuts, ground or in pieces, such as walnuts, pecans or dried fruit.
* You could also add a cinnamon quill to spice rum together with cloves, if desired.